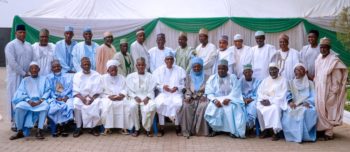 By Patience Danjuma
President Muhammadu Buhari says all unclaimed looted assets, including landed properties recovered by the federal government, would be sold and the proceeds deposited into government treasury.
The President made this known when he addressed members of Daura emirate coalition who paid him a condolence visit at his country home, Daura, Katsina state, on Monday.
He said many "looters" of government resources had been denying ownership of their ill-gotten properties and assets across the country.
Buhari said he was not surprised by the increasing number of those denying ownership or disclaiming the properties traced to them by the various anti-corruption agencies.
"Some years back, one of my schoolmates in the primary school who worked at a cottage company before his demise predicted that we will come to a situation when looters will deny their loot in Nigeria," he said.
"So as a civil servant, you have 10 houses in Abuja and even in Kaduna and abroad, the more you show them the properties the more they will swear that it does not belong to them.
"And we are still following the process. You know democracy you have to follow due process and respect the rule of law.
"If you are following you will hear that some of these looters were arrested, and for those who deny their loot, then instead of what happened before, this time around we will sell those stolen properties and the proceeds will be deposited in government treasury.
"If the money is in the government treasury, I will see who will reclaim them after we have left."
The President pledged that government would ensure availability of fertiliser and other farm inputs to farmers to sustain the successes recorded by the farmers in the previous farming seasons.
"Please tell Nigerians that we are trying our best, and I thank God, the rainy season is blossom, we will try to add more money to farmers, and ensure the availability of fertiliser and other farm inputs," he said.
"We will also continue to reconstruct roads and railways and provide electricity and we promise we will continue to do so."
Copyright Ships & Ports Ltd. Permission to use quotations from this article is granted subject to appropriate credit given to www.shipsandports.com.ng as the source.