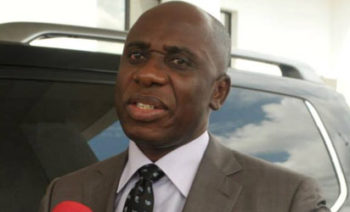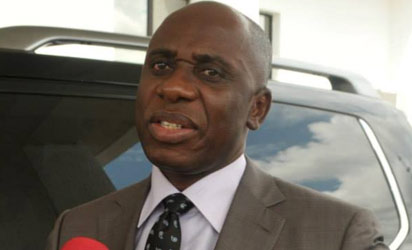 Presiding bishop of Sufficient Grace and Truth Ministry (SGTM) in Osun State, Seun Adeoye, has said that the current administration cannot get anything right until the Minister of Transportation, Rotimi Amaechi, apologises for his "wrongs".
In a statement issued in Osogbo, the state capital on Tuesday, Adeoye said Amaechi had "offended men of God" when he alleged, in 2015, that ex-President Goodluck Jonathan bribed Christian leaders.
He accused officials of the current administration of using "all sorts of blackmail" to get the All Progressives Congress (APC) into power, stating that though "Amaechi was the major culprit."
He also said the current administration had the potentials of turning Nigeria around "but has been inhibited by the Almighty God."
"Virtually all those who led Buhari's campaign including the Acting President, Professor Yemi Osinbajo were guilty of using all sorts of blackmail and falsehood to get this government into office but Amaechi was the major culprit," Adeoye said.
"It was Amaechi as the Director-General of Buhari's campaign organisation who told the world that ex-President Goodluck Jonathan bribed Christian leaders with a whopping N6 billion. He refused to mention who collected the money and who they shared the same to.
"Following this unguided statement by Amaechi, many innocent pastors were ridiculed and abused by Nigerians. It came to a point that parishioners even did not trust their priests again.
"I am one of those who prayed for Buhari to get well quickly. The Lord has assured that he will heal the president and that he won't die in office but this government can't get anything right until Amaechi and others apologise to those they deliberately maligned during the campaign.
"It is clear that rather than this government breaking new ground, it is still struggling over the economy, security and power generation. The president has been on sick bed for months. Blood of hundreds of innocent Nigerians have been shed unnecessarily since this government came on board in May 2015.
"Truth must be told; Amaechi offended men of God. He laid accusation on all pastors without justification. He must tender unreserved public apology and I am sure pastors around the country will rally round and pray from the deep of their hearts for peace in our land and total restoration and recovery of the economy.
"You cannot mock God and go away with it. Men of God are His representatives on earth. If you mock pastors, you mock God. If you lie against them, you lie against God.
"I am confident that with sincere apology from Amaechi in particular, those who sit and fold their arms watching the nation's events as they unfold will rise up and help in prayers and we will see God healing this land," the clergy added.
Copyright Ships & Ports Ltd. Permission to use quotations from this article is granted subject to appropriate credit given to www.shipsandports.com.ng as the source.