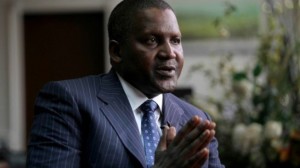 The President of Dangote Group, Alhaji Aliko Dangote, has lamented the difficulties encountered by investors in doing business in many states of Nigeria, describing the experience as "hell". 
He, however, said the situation is different in Lagos State. 
"I am not advertising for Lagos, but try another state, you will see hell," Dangote, who is Africa's richest man according to Forbes Magazine, said at a 'Lagos Means Business' forum organised by the Lagos State Government on Tuesday. 
While speaking at the event, the Governor of Lagos State, Akinwunmi Ambode, promised to utilize taxes paid by residents judiciously.
He said, "We are not true citizens until we become responsible tax payers. If the vision of a prosperous Lagos is to be achieved, the State must retreat from borrowing to finance its infrastructure and pay back later in the future with high interest rate." 
On the controversies over the recent land use charges introduced by the state, the Governor said the government was open to dialogue over the issue.
"The good part of the arguments trailing the Lagos Land Use Charge is that the State Government is ready for dialogue and will welcome the complaints of dissatisfied members of the public in this regard. Business owners paying Land Use Charge should see it as part of their corporate social responsibilities," he said.