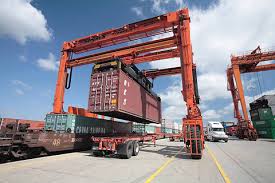 Canada is in the early stages of reworking its system of cargo clearance to allow containerized goods that don't present a security, safety or health threat to move through port and separate the payment of duties from the process so importers can get their goods out of the terminals faster.
Until then, however, forwarders and shippers will continue to wrestle with frequent cargo clearance delays.
The Canadian International Freight Forwarders Association (CIFFA) had earlier in the year conducted a study examining the factors behind the long delays in container examinations at British Columbia's Vancouver's port.
According to the Executive Director, CIFFA, Ruth Snowden, it was taken three to four weeks to get containers examined, and the examination, by the time you paid the demurrage on the equipment and finished the exam- the average cost for a container exam was up around $2,000.
The study affirmed that 'in the immediate short term, the Canada Border Services Agency has ongoing and long standing issues with the container examination process in Canada' she said. "The whole system lacks transparency; the process is flawed"
As they grapple with cargo clearance bottlenecks, forwarders are pressuring the Canada Border Services Agency (CBSA) to speed up examination and divulge the costs of the cargo checks.
"CBSA is in the early stages of reworking its cargo clearance to uncouple the payment of duties from the process so importers can get their goods out of the terminal faster. This is called 'The New Commercial Vision, it is in its infancy at the moment said President, Canadian Importers and Exporters Association, Joy Nott.
"A program call e-Manifest is part of this and is in its early stages. When fully implemented, e Manifest will require all carriers, freight forwarders and importers to send advance commercial information about their shipments electronically to the CBSA.
"The collection and risk assessment of pre arrival data will improve the CBSA ability to detect high risk shipment before they arrive at the border. At the same time, low risk, legitimate trade will be able to cross the border more efficiently," the agency said.  
Copyright Ships & Ports Ltd. Permission to use quotations from this article is granted subject to appropriate credit given to www.shipsandports.com.ng as the source.