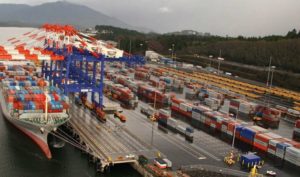 The debacle at the US west coast ports last year has presented an opportunity for Canadian ports to take market share and they fully intend to leverage on it.
Speaking to Seatrade Maritime News on the sidelines of the Asian Logistics and Maritime Conference recently, Port of Prince Rupert Vice President for trade development and public affairs Shaun Stevenson said he expected to take about 20% to 25% of market share for the inland port intermodal (IPI) market, comprising about 12m to 14m teu per year, from the US ports.
The IPI market refers to cargo moving from an arrival port to an inland destination via overland transit.
"At Prince Rupert we saw a great deal of traffic growth in anticipation of potential supply chain disruptions on the West Coast," said Stevenson, adding that volumes grew 24% last year.
He expects much of these volumes to stay on as shippers seek to diversify their supply chain strategy and have experienced the attractiveness of Canadian Gateway ports as a trade lane solution for North American cargo.
"Most of that has remained and we expect will continue to grow as a larger share of the major US importers that anchor the volumes coming in to North America, continue to look to take advantage of Canadian gateways," Stevenson said.
The biggest advantage of these ports is the two to three day reduction in ocean transit time for containers going into North America from the Far East, he added.
The ports are stepping up their game and adding not only intermodal connectivity, through their partnership with Canadian National Railway (CN), but also capacity at both Port of Prince Rupert and Port of Vancouver.
According to DP World Canada commercial director Tabare Dominguez, these plans include a 500,000 teu increase in capacity at Phase 2 of the Fairview Container Terminal in Prince Rupert by next year and 600,000 teu in extra capacity at its Centerm facilities in Vancouver by 2019.
Dominguez added that increase in quay length and new cranes will also make its terminal in Prince Rupert able to accept the largest megabox ships by July 2017, when these works are completed. This will make it the only port on the North American west coast with this capability.
And capacity at the Port of Prince Rupert overall is slated to expand to almost 2.5m teu by 2022 with the addition of an integrated logistics park and supporting infrastructure, added Stevenson.
Dominguez noted that both Vancouver and Prince Rupert can offer significant advantages to cargo arriving at North American west coast ports bound for inland destinations such as the Mid-West, and espcially volumes from Asia which account for 84% of the 10m to 12m teu on this lane.
"We see growth in this market and that's why DP World is investing," said Dominguez.
"Working with our partners CN and DP World, we believe we're going to continue to grow and expand the Port of Prince Rupert and anchor its new growth this new growth in Asia-Pacific trade," concluded Stevenson.
Copyright Ships & Ports Ltd. Permission to use quotations from this article is granted subject to appropriate credit given to www.shipsandports.com.ng as the source.