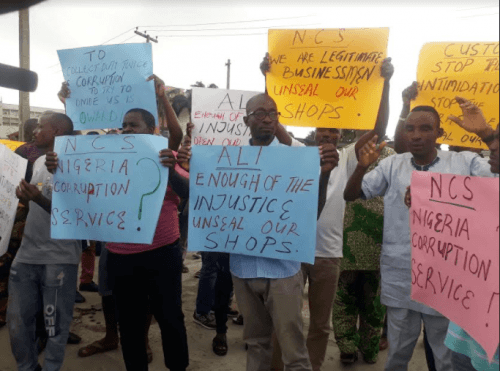 Members of the auto dealers association in Lagos, on Thursday, protested against the continued closure of their car marts by the Nigeria Customs Service.
Customs had on September 29 invaded the business premises of automobile dealers, sealing off their car cart marts across the nation on suspicion that the outlets had smuggled vehicles.
The protesters who displayed placards bearing various inscriptions such as, 'Ali enough of the injustice, unseal our shops', 'Customs stop the intimidation', 'To collect duty twice is corruption', condemned the action of Customs, calling on government intervention for immediate reopening of their business premises.
A lawyer to the aggrieved car dealers, Monday Ubani, who briefed newsmen, described the action of the Nigeria Customs Service as a demonstration of gross irresponsibility and abuse of power.
He said, "This action by the Nigeria Customs Service does not in any way portray Customs in a good image, but has rather reduced it to a laughing stock among members of the international community who are watching this arbitrary exercise of power. Does it not expose the deficiency of the Customs?
"It is most appalling that these hardworking Nigerian citizens are made to pay for it, albeit in a rather inconsiderate and lawless manner. Let's further assume that the action of the Customs is because of improperly cleared vehicles, or smuggled vehicles, is the Customs by their action saying that all the vehicles in those car shops were affected, warranting the sealing up of their business premises?"
He noted that while the association is not in any way encouraging illegality, if there are cars that are suspected to have evaded duty payment, Customs should issue additional duty rather than sealing up of the entire business premises of the car dealers.
President of the car dealers association, Morgan Onyebuchi, who lamented alleged extortion and harassment of his members by Customs officials, dismissed allegations that smuggled vehicles are sold in their car marts.
He maintained that all the cars in their business premises were duly cleared from the port and appropriate duty paid to the government.