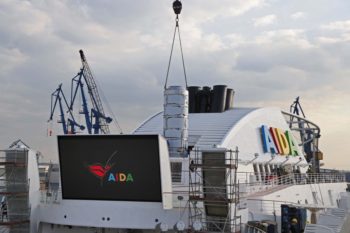 Cruise shipping major Carnival Corporation has completed the installation and certification of Exhaust Gas Cleaning Systems (EGCS) on 60 ships across its brands investing some USD400 million to date, the company said.
With some 60 percent of its fleet covered, the company added it plans to develop and deploy its systems on more than 85 vessels across its global fleet through 2020.
Carnival has developed its own technology for reducing sulfur compounds and particulate matter from a cruise ship's engine exhaust at any operating state of a ship – at sea, during maneuvering and in port. The systems are said to be in line with the international regulations that place a cap on sulfur content of fuel oil at 0.1 percent.
"Our Exhaust Gas Cleaning Systems represent advanced environmental technology, and underscore our company's strong commitment to responsible sustainability practices," said Mike Kaczmarek, Vice President of Corporate Marine Technology for Carnival Corporation.
"Due to the success we have had with improving air quality with our systems, we have expanded our commitment to install and deploy this technology from an original 32 vessels to over 85 through the end of 2020."
Aside to scrubber technology, Carnival Corporation has also started adopting LNG as fuel. In 2015, AIDAsol from the company's AIDA Cruises brand was the first cruise ship in the world to be supplied with power by an LNG Hybrid barge and, last year, the newly delivered AIDAprima became the first cruise ship to routinely use LNG with a dual-fuel powered engine while in port. By 2019, the company will introduce the first of seven fully LNG-powered vessels.
Carnival Corporation's scrubers are currently installed and certified on 17 Carnival Cruise Line vessels, 13 Holland America Line vessels, 10 Princess Cruises vessels, seven Costa Cruises vessels, five AIDA Cruises vessels, four P&O Cruises UK vessels, three Cunard vessels and one P&O Cruises Australia vessel.
Copyright Ships & Ports Ltd. Permission to use quotations from this article is granted subject to appropriate credit given to www.shipsandports.com.ng as the source.