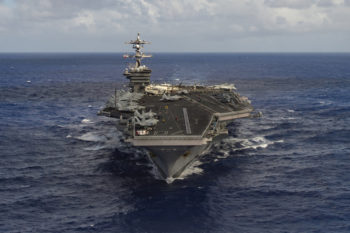 South Korea said on Monday it was in talks about holding joint drills with a U.S. aircraft carrier strike group, as U.S. President Donald Trump called the leaders of Japan and China amid fears North Korea could conduct another nuclear test.
Trump was due to call Chinese President Xi Jinping after talking with Japanese Prime Minister Shinzo Abe earlier on Monday. Reclusive North Korea said at the weekend it was ready to sink the U.S. aircraft carrier, which Trump had ordered to waters off the Korean peninsula as a warning to the North.
Japan said on Sunday it had sent two Japanese destroyers to join the carrier group, led by the USS Carl Vinson, for drills.
Abe described his conversation with Trump as a "thorough exchange of views".
"We agreed to strongly demand that North Korea, which is repeating its provocation, show restraint," Abe told reporters.
"We will maintain close contact with the United States, keep a high level of vigilance and respond firmly," he said.
Abe also said he and Trump agreed that China, North Korea's neighbor and sole major ally, should play a large role in dealing with Pyongyang.
A Japanese official said the phone call between Trump and Abe was not prompted by any specific change in the situation.
Tensions have risen sharply in recent months, with Washington and its allies fearing Pyongyang could conduct another nuclear missile test or launch more ballistic missiles in defiance of United Nations sanctions.
North Korea celebrates the 85th anniversary of the foundation of its Korean People's Army on Tuesday, and has marked similar events in the past with nuclear tests or missile launches.
The U.S. government has not specified where the carrier strike group is, but U.S. Vice President Mike Pence said on Saturday it would arrive "within days".
South Korean Defence Ministry spokesman Moon Sang-gyun gave no further details about the South's plans, other than saying Seoul was holding discussions with the U.S. Navy.
"I can say the South Korean and U.S. militaries are fully ready for North Korea's nuclear test," Moon said.
South Korean and U.S. officials have feared for some time that North Korea could soon carry out its sixth nuclear test.
Satellite imagery analyzed by 38 North, a Washington-based North Korea monitoring project, found some activity under way at North Korea's Punggye-ri nuclear test site last week.
However, the group said it was unclear whether the site was in a "tactical pause" before another test or was carrying out normal operations.
Adding to the heightened tensions, North Korea detained a U.S. citizen on Saturday as he attempted to leave the country. 
Copyright Ships & Ports Ltd. Permission to use quotations from this article is granted subject to appropriate credit given to www.shipsandports.com.ng as the source.