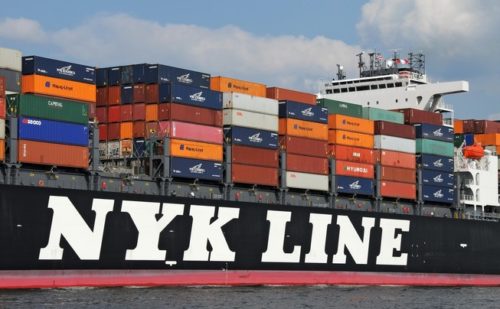 The Chilean Tribunal for the Defense of Free Competition (TDLC) released its final ruling in a car cartel case that began in 2015 fining NYK and MOL at of $9.1 million, while four other companies were either exempted or acquitted.
The accused companies were the Chilean Compañía Sudamericana de Vapores (CSAV), which received compensation, and Compañía Marítima de Chile (CMC, former Chilean Interoceanic Navigation Company, CCNI); Eukor Car Carriers Inc. (Eukor); and K-Line, Mitsui OSK Lines (MOL) and (NYK).
The Tribunal for the Defense of Free Competition (TDLC) partially accepted the collusion requirement filed in January 2015 by the National Economic Prosecutor's Office (FNE) against six shipping companies for having executed an agreement that avoided competition in the service contracting processes of transport of vehicles brought to Chile from Europe, America and Asia.
CSAV, which revealed the existence of the agreement through the compensation procedure was exempted from a fine.
Japanese line was considered as a second reporter, for which the Court applied a reduced sanction of $6.6m.
MOL was also sanctioned, with a $2.5m fine, while CMC, Eukor and K-Line were not convicted, because the TDLC accepted the prescription exception filed by these companies with respect to routes originating in Asian ports.
"The TDLC established that for years it [the companies] operated a cartel that avoided competition in the transport of vehicles to Chile, as we accused at the time. We are currently analysing the detail of the sentence and reaffirm our commitment to the persecution of the cartels, which are undoubtedly the worst attack against free competition and affect consumers in our country," said Chile's National Economic Prosecutor, Ricardo Riesco.
After the ruling issued by the TDLC, the parties have a period of 10 working days to submit a claim to the Chilean Supreme Court.
Through a statement, CSAV explained that: "When in September 2012 the Company received information requests from the United States and Canada, in relation to possible agreements between shipping companies in the transportation of vehicles between 2000 and September 2012, the company proceeded to provide the maximum collaboration with research in development in the different jurisdictions where its services operated. Likewise, it denounced the case before Chile's National Economic Prosecutor's Office (FNE) accepting the compensation mechanism."
CSAV stated that, "It categorically rejects those practices that attempt against the current legislation in any of the jurisdictions in which it operates and has strict protocols to ensure compliance."