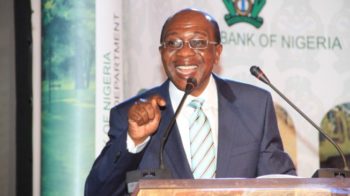 The Central Bank of Nigeria (CBN) is unlikely to hold an interest rate setting meeting on Jan. 22 as scheduled because several new members of the Monetary Policy Committee (MPC) have yet to be approved by lawmakers, two CBN sources told Reuters.
At least five of the MPC's 12 members are due to be replaced after retiring last year. "The indications that the MPC might not hold are there because of quorum," one of the sources said.
The CBN rules state that at least six members of the MPC are needed to approve an interest rate decision. A rate announcement had been expected on Jan 23, a day after the meeting.
The sources said the central bank would issue a statement.
At its last meeting in November, the MPC held rates at the same 14 percent level it has kept for more than a year, to fight inflation and to attract foreign investors to support the naira.
The head of National Bureau of Statistics told Reuters this week he expects inflation to fall faster this year than in 2017 as the economy and currency stabilise, but warned that spending ahead of elections next year could stoke price rises.
Agency Report