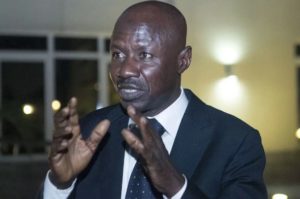 The Acting Chairman, Economic and Financial Crimes Commission (EFCC), Ibrahim Magu, has said corruption is cheaper to prevent than to fight it.
He disclosed this during the Anti-Corruption Sensitisation Programme organised for the Federal Airports Authority of Nigeria (FAAN) and Aviation Sector Workers Abuja on Thursday.
Magu said that section six of the EFCC Act required the commission to, in addition to its enforcement responsibilities, take measures to prevent economic and financial crimes.
The EFCC Chair explained that part of such preventive measures was an aggressive sensitisation campaign, public enlightenment and education in both public and private sectors.
The essence, according to him, is to improve workplace consciousness of corruption and its corrosive effects and encourage workers to embrace them.
"The EFCC alone couldn't fight and win the war against corruption in Nigeria.
"I would like to seize this opportunity to remind us that, corruption affects all of us.
"We must resolve to fight it to a standstill in line with President Muhammadu Buhari's admonition to us that, "If we don`t kill corruption, corruption will kill Nigeria.
"We must not allow that to happen, for the sake of our children and the unborn generation.''
He said that the airport, as the most important gateway into the country, was strategic in many ways.
He said that since airport was foreigners' first contact with Nigeria, the impression they formed about the country would be largely informed by the conduct of aviation professionals.
According to him, this is why the conduct of aviation professionals is key to the efforts at national rebirth, especially the critical economic mandate of attracting foreign direct investment into the economy.
Maju enjoined aviation workers to erase practices, attitudes and behaviours that could cast a slur on the nation's reputation, thereby making Nigeria an unattractive destination for both tourists and investors.
The EFCC boss called on the management of FAAN to put screening and monitoring systems in place to ensure that airport staff delivered service to the best international practices.