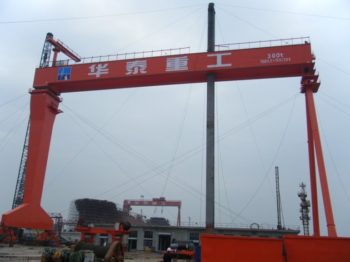 Another six shipbuilders are set to enjoy financial support from China in the forthcoming period as they have been added to the country's White List of shipbuilders, the Ministry of Industry and Information Technology informed.
The shipbuilders in question are the Huatai Heavy industry (Nantong), Jiangsu Dajin Heavy Industry, Tsuneishi Group (Zhoushan) Shipbuilding, Zhejiang Xinle Shipbuilding, Fujian Changxing Shipbuilding Heavy Industry, and Shanghai Zhenhua Heavy Industry.
Additionally, after conducting a review of the assessment of the enterprises already on the list, the Chinese authorities decided to remove seven shipbuilders from the list. These include Dalian Liaoning Shipyard, Nantong Mingde Heavy Industry, Jiangsu Eastern Marine Equipment, Jiangsu Rongsheng Heavy Industries, Zhejiang Shipbuilding, Zhejiang Zhenghe Shipbuilding and Qingdao Yangfan.
Following these changes, China's White List includes a total of 70 shipbuilders.
In late 2016, Clarksons Research informed that China introduced a set of revised criteria for its White List of domestic shipyards, under which builders can be dropped from the list if they suspend production or declare bankruptcy, merge with or be acquired by other yards, fail to win a new order and deliver a vessel over a two year period, or fail to deliver a ship, receive a contract, and have no units under construction over a one year period.
Furthermore, Clarksons Research added that the White List could be shortened to 59 yards taking into account the yards which have declared bankruptcy and merged with others.
The list was introduced in 2013 by the Chinese government, as an additional incentive for shipyards which comply with the country's requirements in areas such as ship emissions, offering the rule-abiding shipyards benefits such as tax rebates and bank credits.
The first batch of shipyard names was released in September 2014 and included some 50 companies.  
Copyright Ships & Ports Ltd. Permission to use quotations from this article is granted subject to appropriate credit given to www.shipsandports.com.ng as the source.