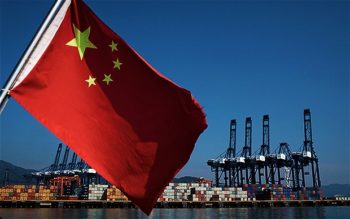 China's Foreign Ministry stated on Monday that the country's door to talks is open in principle, a day after Beijing warned that any trade and business deals reached with Washington would be void if the United States implemented tariffs.
The United States and China have threatened tit-for-tat tariffs on goods worth up to $150 billion each, as U.S. President Donald Trump has pushed Beijing to open its economy further and address the United States' large trade deficit with China.
The two countries ended their latest round of negotiations on Sunday, with U.S. Commerce Secretary, Wilbur Ross and his delegation leaving Beijing without making a public statement, and China making no mention of any new agreements.
Following Chinese Vice Premier, Liu He's talks with Ross, China referred instead to a consensus reached last month in Washington, when China agreed to increase significantly its purchases of U.S. goods and services.
It also warned that any tariffs and other trade measures implemented by Washington would derail any agreements between the two sides.
Foreign Ministry spokeswoman, Hua Chunying, referred questions to the country's Commerce Ministry when asked at a regular news briefing when and where a next round of talks might occur, and if Liu was preparing to go to the United States.
"But I think China's position in principle is very clear, which is that China's door to dialogue and consultations is always open," Hua said.
China is sincere in wanting to "appropriately resolve" the problem via talks, she added, without elaborating.
China's State Council Information Office and the Commerce Ministry did not reply to Reuters request for comment on the issue.
In an editorial, the official state-run China Daily said the outcome of the weekend talks suggested both sides had continued to take a constructive approach but warned of Trump's unpredictability.
"Trump claims that he is seeking fairness and reciprocity in the U.S.' economic relationship with China, but so far he has sought to extort gains from China using the economic advantages the U.S. has," it said.
At the end of last month's talks in Washington, the two countries released a joint statement, and U.S. Treasury Secretary, Steven Mnuchin later said the trade war was "on hold".
But just when it appeared a trade truce between the two economic heavyweights was on the cards, the White House last week warned it would pursue tariffs on $50 billion worth of Chinese imports, as well as impose restrictions on Chinese investments in the United States and tighter export controls.
The heightened trade tensions with China come as Trump has angered U.S. allies, including Canada, Mexico and the European Union, with tariffs on metal imports.
Agency Report