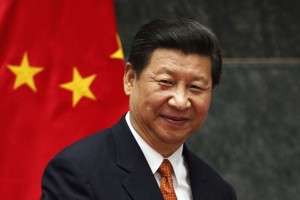 China said Thursday that the deployment of weapons in the South China Sea had "nothing to do with militarisation", calling the construction of defensive facilities "normal".
The comments came after images released by the US-based Asia Maritime Transparency Initiative (AMTI) showed a series of hexagonal structures on each of seven islets China constructed on uninhabitable rocks and reefs.
The structures appear to be large anti-aircraft guns and close-in weapons systems (CIWS) designed to take out incoming missiles and enemy aircraft, the AMTI said.
Speaking at a regular press briefing, foreign ministry spokesman Geng Shuang told journalists that he was not aware of the report, but said that islands in the South China Sea were the country's "inherent territory".
"To conduct construction on China's own territory and deploy necessary national defence facilities is quite normal," he said, adding that the deployment of defensive weapons had "nothing to do with militarisation".
China's defence ministry said on a verified social media account that the construction was mostly for civilian use, and that necessary military installations were for self-defence.
"If someone were flexing his muscles outside your door, wouldn't you get a slingshot ready?", it wrote.
Tensions in the strategic area have been brewing for years, with China, the Philippines, Brunei, Malaysia and Vietnam making competing claims in waters with vital global shipping routes and what is believed to be significant oil and natural gas deposits.
The Philippine foreign ministry said Manila was still independently verifying the AMTI report.
If true, "then it is a cause for serious concern because it tends to raise tension and undermine peace and stability in the region," spokesman Charles Jose told said.
In a statement, Australia's foreign minister Julie Bishop said that the building of artificial islands and possible militarisation was "creating an environment of tension and mistrust" in the region.
Without naming China, she said Australia urged countries to "refrain from coercive behaviour and unilateral actions designed to change the status quo in disputed areas" and warned such behaviour would lead to "reputation and other costs".
Beijing's territorial claims, based in part on controversial historical records, have also pitted it against the United States.
The American military has conducted several "freedom of navigation" operations in which ships and planes have passed close to the sites Beijing claims.
The US has sailed warships near the islands, but the ships have not passed within the 12 nautical mile zone that international law defines as territorial waters.
Such missions have drawn howls of fury from China, which accuses Washington of provocation and increasing the risk of a military mishap.
At a meeting with Barack Obama in 2015 China's president Xi Jinping pledged Beijing "does not intend to pursue militarisation" in the South China Sea.
The Permanent Court of Arbitration in The Hague ruled in July that there was no legal basis to China's claims to nearly all of the South China Sea, a verdict Beijing has dismissed.
Copyright Ships & Ports Ltd. Permission to use quotations from this article is granted subject to appropriate credit given to www.shipsandports.com.ng as the source.