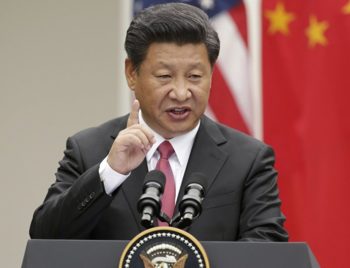 China said on Monday it would impose higher tariffs on a range of U.S. goods including frozen vegetables and liquefied natural gas, striking back in its trade war with Washington after U.S. President Donald Trump warned it not to.
The move, widely expected after the United States last week raised tariffs on $200 billion in Chinese imports, heightened fears the world's two largest economies were spiraling into a no-holds-barred dispute that could derail the global economy.
China's finance ministry said it plans to set import tariffs ranging from 5% to 25% on 5,140 U.S. products on a revised $60 billion target list. It said the tariffs will take effect on June 1.
"China's adjustment on additional tariffs is a response to U.S. unilateralism and protectionism," the ministry said. "China hopes the U.S. will get back to the right track of bilateral trade and economic consultations and meet with China halfway."
The White House and U.S. Trade Representative's office did not immediately respond to requests for comment.
Global equities, which slumped last week on the escalating tensions, fell sharply, with major U.S. indexes down more than 2 percent. Investors sought safety in U.S. bonds while the U.S. dollar slipped against a basket of currencies.
"It's clear that there is a lot of nervousness around the U.S.-China trade negotiations and concern that it's really deteriorating pretty significantly, and that's impacting all areas of markets," said Kristina Hooper, chief global market strategist at Invesco in New York.
Earlier on Monday, Trump told China not to intensify the trade dispute and urged its leaders, including President Xi Jinping, to continue to work to reach a deal. 
"China should not retaliate – will only get worse.
"I say openly to President Xi & all of my many friends in China that China will be hurt very badly if you don't make a deal because companies will be forced to leave China for other countries," Trump posted on his Twitter handle.
The U.S. president, who has embraced protectionism as part of an "America First" agenda, stepped up his verbal attacks on China on Friday after two days of high-level trade talks in Washington ended with the two sides at an apparent stalemate.
Trump has accused Beijing of reneging on commitments it made during months of trade negotiations, which Beijing has denied.
China tried to delete commitments from a draft agreement that its laws would be changed to enact new policies on issues from intellectual property protection to forced technology transfers. That dealt a major setback to the talks.
In the middle of the talks last week, Trump hiked tariffs on Chinese goods to 25% from 10%. Those tariffs affect 5,700 categories of Chinese products including internet modems, routers and similar devices.
In the wake of the failure of the talks, Trump ordered U.S. Trade Representative Robert Lighthizer to begin the process of imposing tariffs on all remaining imports from China, a move that would affect another $300 billion worth of goods.
China said it would "never surrender" to external pressure.
Source: Reuters