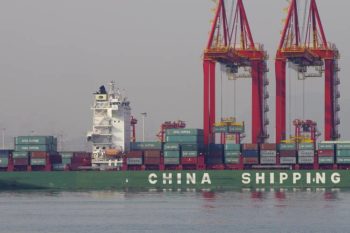 China on Wednesday posted a forecast-busting surge in exports for July but while its surplus with the US dipped slightly there was a warning that the full impact of US sanctions was yet to be felt.
The figures come as the world's two largest economies exchange threats of stiff duties on billions of dollars worth of goods, fuelling fears of a full-blown trade conflict that could hit global growth.
Beijing reported a $28.1 billion surplus with the US in July, down from the record $28.9 billion seen in June. But it was 11 percent higher than in the same month last year.
China's global trade surplus also fell, from $41.5 billion in June to $28 billion in July. Exports surged a better-than-expected 12.2 percent in July, while imports soared 27.3 percent, also beating estimates.
But the latest readings are unlikely to ease tensions with Donald Trump's administration.
China's gaping trade surplus with the United States has long been a bone of contention, with the president accusing the country of unfair practices, stealing American jobs and thieving its technological know-how.
While July's numbers narrow the gap, the relatively small change will do "little to cool down the escalating trade tensions between the two countries", said Betty Wang, senior China economist at ANZ Research.
The White House on July 6 imposed 25 percent tariffs on $34 billion of Chinese products entering the US, triggering a tit-for-tat response from Beijing.
Analysts were split on how much effect the tariffs had on July's reading.
"The impact of tariffs on exports is yet to be reflected. We will see a full-month tariff effect in August," Iris Pang, greater China economist at ING Wholesale Banking in Hong Kong, told Bloomberg News.
But Julian Evans-Pritchard of Capital Economists said: "Shipments to the US did weaken slightly, which hints at some impact from the tariffs.
"Equally though, this may reflect a broader softening in economic momentum among developed economies given that exports to the EU edged down too."
Trump has boasted that trade wars are "easy to win" and warned he would hit virtually all Chinese imports if Beijing does not back down and take steps to reduce its $335 billion surplus with the US.
On Tuesday, US officials said they would slap 25 percent levies on another $16 billion worth of Chinese imports from August 23.
In a statement, the office of US Trade Representative, Robert Lighthizer, said its "exhaustive" investigation showed "China's acts, policies and practices related to technology transfer, intellectual property and innovation are unreasonable and discriminatory and burden US commerce."
US officials said there were 279 new goods to be targeted in the latest round of tariffs, including motorcycles, tractors, railroad parts, electronic circuits, motors and farm equipment.
The move had been widely expected but with China lining up retaliatory measures it reinforced worries that the two sides are heading for an all-out trade war that could hammer the global economy.
Washington has also lined up an additional $200 billion in Chinese imports and last week Trump said he could raise tariffs on those products to 25 percent instead of the previously touted 10 percent.
Beijing has called on US officials to be "cool headed", but has warned it will retaliate to any tariffs with its own measures.
However, the US imports far more from China than the other way around, meaning Beijing may at some point need to look for other means of retaliation.
The US-China trade war will cut the global gross domestic product by 0.7 percent by 2020, Oxford Economics said in a note Tuesday.
Agency Report