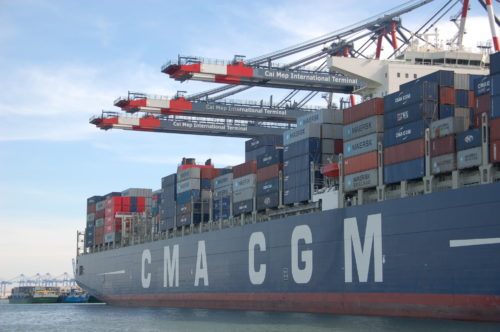 CMA CGM has offered to buy full control of Swiss transport company, Ceva Logistics, in which it is already a major shareholder, the companies said on Thursday.
The plan for a voluntary buyout offer was announced as part of a broader strengthening of an existing partnership between the two companies, with Ceva having rejected a bid earlier this month from Danish freight company, DSV.
The French shipping group said there would be a public tender offer, priced at SFr 30 per share in cash, for CEVA shareholders who wished to sell. That offer price marks a premium of 33 percent to CEVA's closing price of SFr 22.50 on Oct. 24.
The global container shipping sector has been struggling with an oversupply of vessels that has plunged the sector into an almost decade-long slump, its worst on record, forcing some companies out of business and others to combine forces to benefit from economies of scale.
CMA CGM already owns around a third of the share capital of CEVA, which has a market capitalization of around SFr 1.2 billion $1.20 billion).
"We are convinced of CEVA Logistics' potential," said CMA CGM Chairman and Chief Executive, Rodolphe Saade, in a statement.
"This industrial cooperation will make it possible to accelerate its required transformation and to make it a more profitable and efficient leader in logistics for the benefit of its clients, its employees and its shareholders. It reconfirms CMA CGM as the reference shareholder as well as its long-term partner," he added.
CMA CGM added that it would nevertheless commit to keep CEVA listed on the Swiss stock exchange, with a significant free float in terms of the share capital.