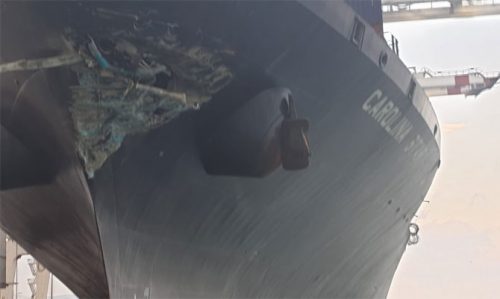 An LNG-powered ferry and a containership belonging to CMA CGM collided in the early morning hours of July 31 near the port of Tangier Med, Morocco.
The Balearia-operated ferry Napoles and CMA CGM-operated containership Carolina Star are said to have sustained significant damages.
No one was injured in the accident in the Strait of Gibraltar, however.
The 3,430 TEU Carolina Star reportedly suffered damages to the foreship including a breach in the hull.
The ferry sustained damage above the water line to the upper area of the stern fin that is being evaluated, Balearia said in an emailed statement.
The damage did not prevent the ship from navigating into the port of Tangier Med where it disembarked the entire passage and cargo.
Napoles was recently converted to LNG and started operating between Huelva and the Canary Islands.
Balearia said on July 31 it was working with the maritime and port authorities and the CMA CGM shipping company to clarify the causes of the incident.
Available AIS data shows that both the 2000-built containership and the 2002-built ferry departed Tangier Med on August 1. Carolina Star sailed to the Port of Campamento, while the Napoles sailed to Algeciras, Spain.