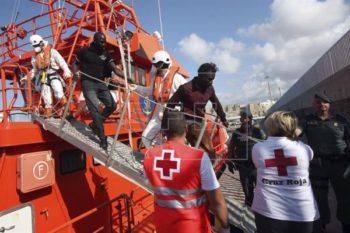 Spain's coastguards rescued 82 migrants trying to cross the Mediterranean on Friday but found the bodies of three other people on board one boat.
In a tweet, the coastguards said the migrants were on two separate boats and were rescued in the Alboran Sea, between Morocco and Spain's Andalusian coast.
"They are being transferred to Almeria (on the coast)," they added.
It was as yet unclear what the three people had died of.
Spain is the third busiest gateway for migrants arriving in Europe, still far behind Italy but catching up fast with Greece.
Many Africans undertaking the long route to Europe are choosing to avoid crossing danger-ridden Libya to get to Italy along the so-called central Mediterranean route, and choosing instead to get there via Morocco and Spain.
According to the International Organization for Migration (IOM), more than 22,400 people arrived in Spain by sea last year, almost triple the number in 2016.
Some 223 people died along the way.
So far this year, at least 75 others have lost their lives trying to cross the Mediterranean to reach Spain.
Of fatal incidents known to AFP, Moroccan rescue services recovered the bodies of 16 migrants off the coast of Spain's overseas territory of Melilla in northern Morocco earlier this month.
All were sub-Saharan Africans apart from one Moroccan.
And in January, seven African migrants drowned or died from hypothermia, exhaustion and hunger as they tried to reach the Canary Islands.
Copyright Ships & Ports Ltd. Permission to use quotations from this article is granted subject to appropriate credit given to www.shipsandports.com.ng as the source.