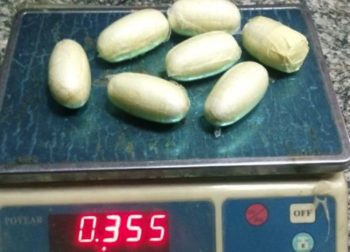 About 106 cocaine capsules worth some $900,000 has been extracted by the police from the stomach of a Brazilian woman in India.
The 28-year-old woman and the capsules were presented to a New Delhi court which remanded her in the city's Tihar jail. The woman had tried to smuggle the cocaine into India.
She was held on May 14 after she arrived at Delhi airport from Sao Paulo, according to Vishwa Vijay, a Narcotics Control Bureau superintendent.
"She was taken to Safdarjung hospital where doctors administered laxatives after X-rays showed the presence of the capsules," he told AFP.
The capsules, containing in total about 930 grams of pure South American cocaine, were supposed to be delivered to dealers in the Indian capital.
"This is the highest number of cocaine capsules extracted from any professional drugs swallower in Delhi," said Vijay.
The maximum punishment for drug trafficking is 20 years under Indian law.
Agency Report