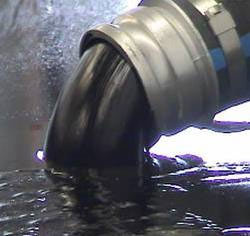 Recent discovery by the Nigerian senate over diversion of crude of oil export proceeds may have rattled stakeholders who believe that the problem of Nigeria is self-inflicted. Investigation carried out by SHIPS & PORTS DAILY shows that some stakeholders in the oil and gas industry are of the opinion that the diversion of crude oil proceeds is engineered by some highly placed persons in and outside the government who collude with foreign agents to defraud Nigeria.
They also believe that proceeds from crude oil sales have become a different kind of "oil block" for these persons who divert the proceeds with little trace. Some of them insists that most of the proceeds from reports have no proper record and "this is deliberately done to make it difficult track the culprits."
The Senate on Monday said that it has discovered over $850 billion supposedly earned by Nigeria between 1996 and 2014 from its crude oil export proceeds, but yet to be repatriated to the country by the Joint Venture Oil Companies, JVCs. The upper legislative chamber maintained that this was in total contravention of Nigeria's Pre-Shipment Inspection of Export Act and Article 26 of export policy guidelines and procedures for crude oil, gas and non-oil goods.
Senate President, Bukola Saraki disclosed this while declaring open an investigative public hearing organized by the joint Senate Committees on Finance, Trade and Investment, Gas, Petroleum Upstream, Banking, Insurance and Other Financial Institutions, Judiciary, Human Rights and Legal Matters, and Customs, Excise and Tariff on the "Need to Investigate Pre Shipment Inspection of Export Activities in Nigeria".
The public hearing was driven by a motion moved on the floor of the Senate on the gross violation of the pre-shipment Inspection of Export Act by certain Institutions of government.
Saraki, while noting with dissatisfaction the refusal of the Joint Venture Oil Companies to repatriate crude oil export proceeds of over $850 billion between 1996 and 2014, warned the companies against flouting the laws of the country they were doing business in.
In December Saraki alerted that the Nigeria National Petroleum Corporation (NNPC) is still diverting proceeds from sale of crude oil. Speaking on the alleged diversion of $5billion by the NNPC and the Nigerian Petroleum Development Company (NPDC), Saraki said "We must put an end to this type of level of misappropriation and recklessness. This must stop."
Most stakeholders believe that despite official pretensions, the diversion would continue because most highly placed persons.
Director General of the Association of Nigerian Exporters (ANE), and member, Board of Trustees, Institute of Export of Nigeria, Prince Joseph Idiong said that most of the challenges in the non-oil sector were man-made.
He traced one of the challenges to lack of  political will by the government to operationalise the Dedicated Export Funding Incentives in the Export (Incentives and Miscellaneous Provisions) Act 65 of 1992.
The Act, according to the ANE director-general, provides for the levy of crude oil and other raw minerals to create a fund for non-oil export development.
Idiong said that in paragraph 4 of the said Act, the provision states: As from commencement of this Act, all raw or unprocessed commodities, whether mineral or agriculture shall be exportable on payment of a token levy as may be prescribed from time to time by order of the Nigerian Export Promotion Council (NEPC).
The ANE boss stressed that since 1992 to date, crude oil which falls under this provision has not been levied, rather, agricultural product, like cocoa, is being levied per ton.
He said that if only a barrel of crude oil was levied one cent, there would be billions of dollars to drive the non-oil sector.