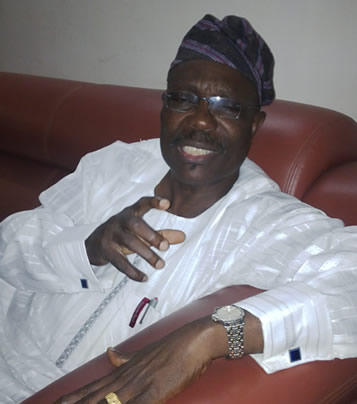 Alhaji Adegoke Salvador is the Chief Executive Officer of Dock Management Nigeria Limited. He is also a member of the recently concluded national conference. In this interview with SHIPS & PORTS DAILY's Babalola Yusuf, he explains how port concession reformed the stevedoring industry and his contribution at the national conference.
Prior to the port concession of 2006, stevedoring operation was seen as one of the weak links in the provision of efficient port services. Do you think port concession has improved stevedoring services?
Yes, because if you look at the population of dockworkers that time in Lagos ports alone, we had almost ten thousand dockworkers. They were so many that to manage such number, you will be having crisis and all sorts. Also, if you go to Calabar or Onne port, the same was happening though we had lesser numbers of dockworkers but because the environment was charged with militancy and all sorts, we had unrest their but after concessioning, all the problems that allow for unrest in the port has been taken care of.
Before concessioning, dockworkers were employed by government, managed by stevedoring companies under the supervision of the National Maritime Authority (now Nigerian Maritime Administration and Safety Agency, NIMASA), but after concessionong, we were given the right to employ our dockworkers and what happened that time was that you can imagine when someone employ and another person manage and you cannot fire because he is not your staff. That is why they called the Nigerian Port Authority (NPA) master stevedore. We were not the ones that employed them but at every contract area, we have certain numbers of dockworkers that are stationed for the place.
For instance, I was given Dantata jetty and I had well over 192 dockworkers that were there whether there is work or not; that is where they were and if we need more dockworkers, we have what we called pool on Creek road, Apapa where we got more dockworkers to add to the numbers and while you are working on a jetty that is not having permanent dockworkers you go to the pool to get dockworkers, we have standard rates and others.
You can imagine what happened then; stevedoring companies were unable to control dockworkers then because they were not the employers. When they misbehave, you cannot fire, you can only return them back to NIMASA or NPA where they replace them with another person, so how long will you continue with that and the dockworkers union are not helping matters then. So the moment they ask for something and it is not forthcoming, they will ask the boys to down tools and there is problem. But, immediately after concessioning, everything became normalize. You remember that time when they pay severance allowance to all dockworkers, they were all sacked and we employed part of them because of their experience because we sent them for training, ITF others. So, we selected the ones that are very good workers, active and employed them. They are the ones we are still maintaining till now and there is a law that they may be unable to join the big union until they are more than 50. They might not be able to join the big union, internal union is not allowed until when they are more than seven so we can control all this with enabling law.
So that is what happened and we started seeing a very peaceful maritime environment. If any dockworker misbehaves now, you can sack him.
So what is your overall view of port reform?
Well, I believe if we are to be sincere, I think port reform has multiplied the resources of government because then, there was what we called manning scale in our work and that is the appropriate type of services required from you for the money given to you. They have standard but when the reform came, I could realize that different types of equipment were coming in, the stevedoring work that we are doing for one week was being done for two days, therefore, productivity has increased, it was because importation continue to increase that is why we are still having some backlogs of goods at the port, but if you observe now, we do not talk about all this port congestion any longer so, with this port reform I believe Nigeria has benefitted so much from it.
Do you have insurance package for your workers?
You cannot be registered by NIMASA if you do not have insurance cover. There are some conditions our registration as stevedores compel us to do; part of it is to pay dockworkers either we get money from NPA or terminal operators or we do not get. It is our responsibility to be paying. That is why they put the condition of bank guarantee, the same thing with insurance; these are part of the condition you must meet before you are given license. Also ambulance and some medical apparatus must be available to take care of our workers, these are all what we should have before you are registered as an employer and when they want to renew the license, they must check all these before it can be renewed.
What is the criterion for getting a site to work?
You firstly get your license from NIMASA, then you apply as a dockworker and before getting license approval, you must have satisfied all the above mentioned conditions, staff bus, medical clinic for your labour, insurance and all that, license is what will give NPA the impetus to give you contract area because you have satisfied all requirements.
Do you still get workers from the pool?
No. Government no longer interferes in the employment of dockworkers anymore. It is we the stevedoring companies that employ directly and we manage them directly. That is why you can see decorum in the industry.
What is the capital base of a stevedoring company?
It depends on what you mean by capital base but a stevedoring company should have a bank guarantee of five million naira before being given the license. That does not mean that is the capital base, what government is particular about is for you to have a minimum amount kept somewhere in case you do not have money to pay, you go back to that one because you do not want the salary of dockworkers to fail at any point in time.
Do dockworkers still work per hour now?
That is casualization, no more casualization, we do not casualize them again but they still work in that manner but no more casualization.
If you work on Saturday, you get paid for overtime. Once you are a permanent staff, if you work on Saturday or public holiday, it is an extra work but in the dockworkers' environment, not only public holidays or weekend that is special what you do from Monday to Thursday have the same rate and what you do from Thursday night to Sunday night has different rate, public holiday different rate. That is why they are earning huge amount of money, Dockworkers are no more what you think they are, in my contract area, we have workers that collect up to N130, 000 every month.
What are the challenges you face in the industry?
Where I work now, I am on SBM, it is right in the ocean so we have to use our boats to carry our workers to the place and return them, but we are facing the problem of militants. We have pirates and those that disturb and we have to be careful. As a matter of fact, dock management is organizing a security outfit for the environment, which we want to introduce the package to NIMASA so that we can join in providing security for all the vessels. It is necessary because they keep disturbing us all the time.
What is it that you want government to do for the maritime industry?
It has to be full privatization of the industry. Having NPA as a technical regulator is not helping, and we talk of port reform being in the legislative aspect also. The port should be moved from exclusive to concurrent list, the state that habour all the ports should be involved in the administration and running of the ports, and with that there will be more security, patronage and services for the people in the catchment area.
It is part of our report from the national conference and when I get to the national assembly that is part of the thing I will push forward.
I am in the industry and I know where the shoe pinches so when I went to the national conference I advocated for the removal of port from the exclusive list to the concurrent list.
Those of us from the littoral states do not have a say in the administration of our waters and that was why we called for it being on the concurrent list so that we can  have a say on our natural resources.
Copyright Ships & Ports Ltd. Permission to use quotations from this article is granted subject to appropriate credit given to www.shipsandports.com.ng as the source.