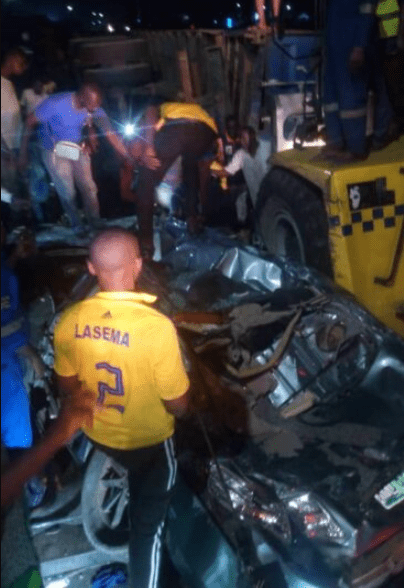 Four persons cheated death in the Surulere area of Lagos on Sunday as a container fell of a truck, crushing the vehicle they were travelling in.
The incident occurred at near Abalti Barracks, along Funso Williams Avenue.
Director-General, Lagos State Emergency Management Agency, LASEMA, Femi Oke-Osanyintolu, said four people were inside the Toyota car when the container fell sideways and crushed the car.
He said the agency immediately activated its response plan and moved to the scene of the incident.
"The agency activated its response plan to the scene and upon arrival at the scene of the incident, discovered a 40 feet containerized truck had fallen sideways onto a Toyota car with four people trapped inside the vehicle.
"The quick response of the agency's response team culminated in the successful extrication of two of the people inside the car.
"The third and fourth victims have been rescued alive from the car and are receiving pre-hospital care from the agency's paramedic team," he said.