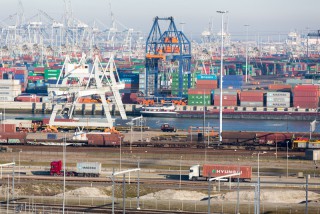 Cargo throughput at the port of Rotterdam, Europe's largest port, rose 1.3 percent to 467 million tonnes in 2017, driven by strong growth in the container segment, the port said on Thursday.
Container volume rose 12.3 percent, offsetting a decrease of 2.6 percent and 4.1 percent in dry bulk and wet bulk respectively, the port said in a statement. Break bulk (Roll on/Roll off and other break bulk) increased by 7%.
In total, the port of Rotterdam handled 13.7 million TEU (twenty-foot equivalent units) in 2017, a 10.9% increase from the year before. The sharpest growth was witnessed at the new Maasvlakte 2 terminal, belonging to APM Terminals, a unit of Danish conglomerate Maersk.
"Rotterdam's share of the container market is now at its highest level since 2000 at 31% (2017 through to Q3), the port said in a statement. "Most growth was seen for Asia and South America and traffic from North America. Feeder volume in particular grew strongly (21% in TEU) for all European shipping areas and in particular Scandinavia and the Baltic states. Growth in short sea amounted to 10.2% (TEU), with a particularly sharp increase in throughput for services to and from the Mediterranean and ScanBaltic. The hinterland volume also rose (6.3%). This growth and the increase in feeder volume confirm the strong position of Rotterdam in the networks of container shipping companies and major alliances. Throughput on Maasvlakte 2 rose sharply and volume also increased at almost all other terminals."
The Port Authority expects throughput volume to increase even more in 2018, with growth in the container sector being lower than the growth experienced in 2017.
Financially, the port registered revenue of 712 million euros ($890 million) in 2017, up 4.6 percent compared to 2016. Net profit of 187 million euros was down 17 percent as the port was subject to corporate tax for the first time. Investments rose by 18.9% to 213.8 million euris, the highest since the construction of the second Maasvlakte container terminal.
The throughput of crude oil increased by 2.3% to 104.2 million tonnes, mainly due to the higher utilization rates for the refineries, the port said.
"The incoming and outgoing flows of mineral oils and oil products fell by 10.8% to 79.2 million tonnes, mainly due to fall in the exports of fuel oil from Russia. The level of fuel oil going to Asia also declined. A fall in the throughput of 'middle distillated products', in particular kerosene, was partially offset by a growth in naphtha throughput," the port said.
LNG throughput increased by 16.5%, primarily as a result of higher deliveries and the development of LNG bunker facilities.
The throughput of chemical products remained stable, while biofuels rose due to a rise in European demand for biodiesel. Vegetable and animal products also increased in volume. The throughput of remaining products from the other liquid bulk category declined, as a result of which the volume for the category as a whole fell by 7.3%.
Throughput of ores and scrap remained stable at over 31 million tonnes, although there was a slight shift in the tonnages, with scrap increasing and ore falling off slightly, according to the port. Coal volume fell by 9.5% because eight coal-fired plants (two in the Netherlands and six in Germany) were closed and the other power stations produced less. The throughput of coke, which is needed for steel production, declined slightly. The Agribulk sector grew by 6.6% to 11.1 million tonnes. The amount of other dry and biomass goods tailed off slightly by 0.6% to 12.1 million tonnes. An increase in the throughput of biomass to Belgium was offset by a decline in other dry bulk. All in all, dry bulk fell 2.6% to 80.2 million tonnes.
The port said roll on/roll off benefited from the use of larger vessels, the expansion of the number of services and growth in existing services. The result was a growth of 6.2%. Other break bulk rose by 9.8% as a result of increased exports, the output of monopiles for offshore wind projects, higher input of steel and an increase in aluminium throughput.  
Copyright Ships & Ports Ltd. Permission to use quotations from this article is granted subject to appropriate credit given to www.shipsandports.com.ng as the source.