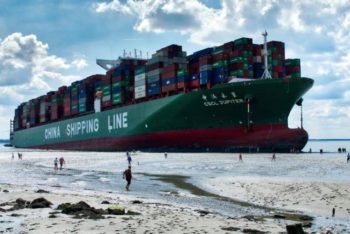 Shipping traffic to and from the port of Antwerp was suspended Monday after a large containership failed to make a turn and ran aground on the Scheldt river.
The 366-meter CSCL Jupiter ran aground at about 9:50 local near Bath, Netherlands shortly after departing from the port of Antwerp headed for Hamburg, Germany.
The Antwerp Port Authority said the grounding resulted in the suspension of all shipping traffic to and from the port.
Photos posted online during low tide shows the bow of the CSCL Jupiter out of water and hard aground on the sandbank.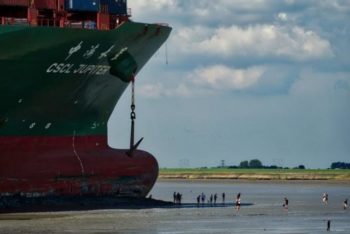 AIS data shows CSCL Jupiter was traveling at about 14 knots just prior to the grounding and after it failed to make a sharp turn to port. Based on the location, CSCL Jupiter would have been under control of a maritime pilot at the time of the incident.
The river Scheldt connects the port of Antwerp, the second busiest port in Europe, to the North Sea.
Antwerp port officials did not say when access to the port would be restored or when the ship could be refloated.
Water levels on the western Scheldt are heavily influenced by the North Sea tide. The next high tide in Antwerp (4.93 meters, 16.18 ft) will be at about 10 p.m. local time on Monday (3 p.m. EDT).
The 13,300 TEU CSCL Jupiter was built in 2011 and is flagged in Hong Kong. The vessel is managed by China Shipping Container Lines, part of China COSCO.
Drone video below shows the CSCL Jupiter aground on the river. 
In February 2016, the 399-meter CSCL Indian Ocean ran aground on Germany's Elbe River leading to the port of Hamburg. The ship was aground for five days before a team of 12 tugs was able to pull the vessel off the sandbank. In that incident, the Elbe River remained open except during the initial incident and refloating operation.  
Copyright Ships & Ports Ltd. Permission to use quotations from this article is granted subject to appropriate credit given to www.shipsandports.com.ng as the source.