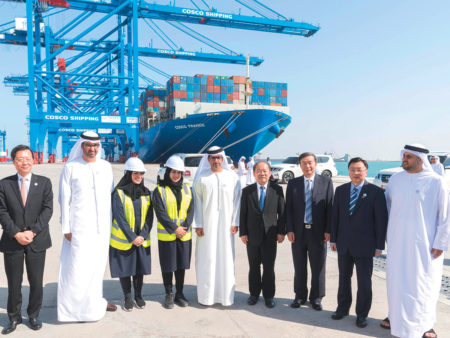 COSCO Shipping Ports and Abu Dhabi Ports on Monday commissioned the new CSP Abu Dhabi Terminal at Khalifa Port, adding Abu Dhabi as the regional hub for COSCO's global network of 36 ports as part of China's Belt and Road Initiative.
This is the first international greenfield subsidiary of COSCO Shipping Ports, a port operating arm of China COSCO Shipping, and it is the result of the 35-year agreement between Abu Dhabi Ports and CSP.
The terminal has a design capacity of 2.5 million TEU and will begin with a handling capacity of 1.5 million TEU. The water depth of the terminal is 16.5 metres, allowing it to accommodate mega-vessels typically carrying in excess of 20,000 TEU. The deepwater, semi-automated container terminal includes the largest container freight station in the Middle East, covering 275,000 square metres.
Abu Dhabi Ports has earmarked AED10 billion (USD2.7 billion) in investment that will increase capacity at Khalifa Port from the current 5 million TEU to 9.1 million TEU, which also includes boosting capacity at Terminal 1 to more than 5 million TEU.
"China and the UAE share a strong and long-standing bond across a variety of ties, including economic, cultural, and trade and investment, and a common vision of a stable and prosperous future for our peoples and the world. We look forward to nurturing our partnership in a spirit of friendly cooperation," Sheikh Hamed bin Zayed Al Nahyan, Chief of the Abu Dhabi Crown Prince's Court, said.
In addition to attracting investors from Eastern Asia, Abu Dhabi Port expects the terminal to attract investment in the free zone of Khalifa Industrial Zone Abu Dhabi (KIZAD).
China is the UAE's largest non-oil trade partner. In 2017, bilateral trade between the two countries increased by 15 percent to more than USD53 billion, representing 14.7 percent of the UAE's total foreign trade.
During the same period the UAE accounted for nearly 30 percent of total Chinese exports to Arab countries and about 22 percent of total Arab-China trade. Bilateral trade is expected to increase to USD70 billion a year by 2020.  
Copyright Ships & Ports Ltd. Permission to use quotations from this article is granted subject to appropriate credit given to www.shipsandports.com.ng as the source.