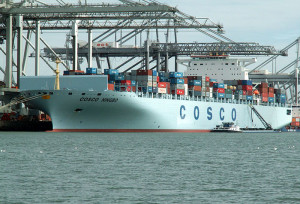 China Cosco Shipping Corp has offered to take over the equity interests its Singapore-listed subsidiary, Cosco Corporation (Singapore), holds in the parent group's shipyard businesses.
The offer relates to Cosco Corp's equity interests in Cosco Shipyard Group Co, Cosco (Nantong) Shipyard Co and Cosco (Dalian) Shipyard Co.
Cosco Corp said after Friday's trading close that the plans relating to the proposed acquisition will be further reviewed and determined after further necessary work, including a valuation of the assets to be acquired, has been completed.
Cosco Corp emphasised that no definitive agreement has been entered into by the company with any party and there is no assurance that any transaction will materialise. It advised its shareholders to refrain from taking any action in relation to their shares or securities of the company which may be prejudicial to their interests and to exercise caution in dealing with the shares and securities of the company.
Cosco Corp narrowed its fourth-quarter net loss by 35 per cent to S$312.96 million.
Loss per share for the three months ended Dec 31, 2016, was 13.98 Singapore cents, down from 21.61 Singapore cents.
Fourth-quarter revenue was S$409.81 million, 44 per cent lower than a year ago period.
Full-year net loss for FY16 was S$466.5 million, compared to S$569.96 million for FY15.
Cosco Corp had requested to lift a trading suspension on its stock. It last traded at S$0.28 on Dec 16 on the Singapore bourse.
Copyright Ships & Ports Ltd. Permission to use quotations from this article is granted subject to appropriate credit given to www.shipsandports.com.ng as the source.