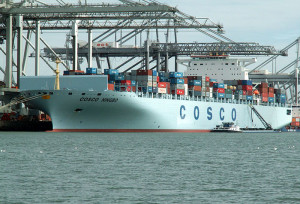 COSCO Shipping Heavy Industry Co Ltd, China's third largest shipbuilder by output, plans to cut the number of shipyards that are able to manufacture offshore engineering products from five to two by 2020, its senior executive said on Friday.
The move is the company's latest effort to cut overcapacity, as the global market is unlikely to see a notable upturn anytime soon.
Under the plan, its shipyards in Nantong, Zhoushan and Dongguan will be shut down. The company will keep manufacturing bases in Qidong and Dalian as they are capable of producing high-end offshore engineering products such as polar ships, oil drilling platforms and cattle carriers.
Liang Yanfeng, the general manager of the State-owned company, said this move will effectively optimize valuable resources to cut overcapacity and avoid defaulting orders made by unstable foreign shipowners, as well as prevent price competition between its subsidiaries.
The Shanghai-based company will also cut delivery capacity of offshore engineering products from 18 to 9 by the end of 2020, as the demand for these types of products has notably dropped in the past three years.
Offshore engineering products are functional vessels and oil drilling platforms that can float in deep water. Offshore gas and oil companies use them to process the natural gas and crude pumped up from beneath the ocean floor. They can also be used during the extraction process.
Liang said: "In addition, declining international oil and shipbuilding prices, growing material and labor costs have all become factors to squeeze shipyards' earning ability globally."
Liang said it was common for shipyards to finance a project in advance after gaining the order in the current market setting. However, affected by falling demand, many shipowners now delay delivery, payment and sometimes even abandon their orders.
Dong Liwan, a shipbuilding professor at Shanghai Maritime University, said to make matters worse, prepayments have also dropped from 80 percent of the total cost to between 30 percent and 20 percent in shipyards-not only in China, but also in South Korea, Singapore and Germany.
Dong said: "Many shipowners from Europe, the US and South America come up with many different excuses to delay payment, such as a change of design, or implementing stricter quality checks. They know they have no work for the ships or oil rigs, so they would rather not take them. This puts a heavy burden on Chinese shipyards."
Established in December 2016, the company was formed out of the previous COSCO Shipyard Group Co, COSCO Shipbuilding Industry Co and China Shipping Industry Co.
COSCO Shipyard and China Shipping Industry all reported financial losses last year.
Copyright Ships & Ports Ltd. Permission to use quotations from this article is granted subject to appropriate credit given to www.shipsandports.com.ng as the source.