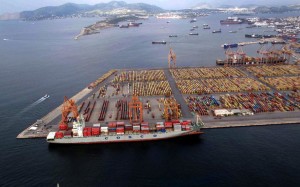 While rising from a relatively low base, the container port industry seemed to spike in April with overall volumes at Cosco Shipping Ports rising 10.1% to 8.67m teu from 7.87m teu in the previous corresponding period.
Even volumes from the previously struggling Bohai Rim region rose 2.7% to 2.87m teu from 2.79m teu previously, while the Yangtze River Delta ports rose 4.1% to 1.64m teu from 1.58m teu in April last year.
The newly rising ports of the Southeast Coast saw volumes rise 5.0% to 382,600 teu from 364,300 teu and even the anaemic Pearl River Delta region saw an outstanding 7.1% rise in volume to 2.14m teu from 2.00m teu.
The sole port in the Southwest Coast cluster, Guangxi Qinzhou International Container Terminal rose 22.4% to 107,800 teu from 88,100 teu previously. And Cosco Shipping Port's international ports continued along their steady high growth path rising 45.5% to 1.53m teu from 1.05m teu.
Meanwhile the Port of Hong Kong saw volumes rise 10.0% to 1.74m teu in April from 1.58m teu in the previous corresponding period.
Performance at the main Kwai Tsing terminals was especially good rising 10.5% to 1.38m teu 1.25m teu the year before. While at the non-Kwai Tsing river trade and midstream terminal operators' ports volumes rose 8% to 360,000 teu from 333,000 teu. 
Copyright Ships & Ports Ltd. Permission to use quotations from this article is granted subject to appropriate credit given to www.shipsandports.com.ng as the source.