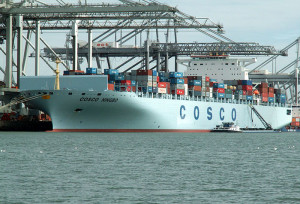 China-based Cosco Shipping Ports Limited has seen its profit from continuing operation for the three months ended March 31, 2017 reach USD 45.2 million, slightly down from USD 48.3 million reported in the same period a year earlier.
The terminal operator also recorded a decrease in its quarterly revenues from continuing operations which stood at USD 127.8 million at the end of the period, compared to USD 128.6 million reported in the first quarter of 2016.
Although its earnings were slightly down for the period, Cosco Shipping Ports Limited said that the group's total container throughput rose by 7.5 percent to 23.9 million TEU from 22.2 million TEU handled in the previous year quarter. Additionally, the company's equity throughput rose by 6.1 percent to 7.3 million TEU from 6.8 million TEU.
Namely, for the three months ended March 31, 2017, the group's throughput of the Greater China region rose by 2.4 percent to 19.6 million TEU, while the overseas throughput surged by 38.6 percent to 4.3 million TEU (corresponding period of 2016: 3,109,749 TEU).
The throughput handled by the terminal companies in which the group has controlling stakes increased by 1.3 percent to 3.7 million TEU, while the throughput handled by non-controlling terminals was 20.1 million TEU, increasing by 8.7 percent.
In January 2017, Cosco Shipping Ports decided to increase its stake in Qingdao Port International (QPI) to 18.41%.
Namely, the company's subsidiary Shanghai China Shipping Terminal Development (SCSTD) will subscribe for over 1 billion non-circulating domestic shares in QPI at a total consideration of RMB 5.8 billion (USD 842.2 million), of which RMB 3.2 billion will be settled by the transfer of a 20% equity interest in Qingdao Qianwan Container Terminal (QQCT) to QPI and the remaining RMB 2.6 billion will be settled in cash.
Under the transaction plans, Qingdao Qianwan Terminal was reclassified as an asset held for sale in the first quarter of 2017. The group has not shared the profit from Qingdao Qianwan Terminal since January 2017. For the three months ended March 31, 2016, the group's share of profit from Qingdao Qianwan Terminal amounted to USD 10.6 million, Cosco Shipping Ports informed, adding that the subscription and disposal were not completed as at April 25, 2017.
The parties also agreed to cooperate to further develop the port of Qingdao into an international shipping hub in Northeast Asia and co-invest in overseas terminal projects, including the Khalifa Port Container Terminal II project in Abu Dhabi, and to set up a terminal project management company to cooperate in the businesses of management and operation of PRC and overseas terminal projects of Cosco Shipping Ports.  
Copyright Ships & Ports Ltd. Permission to use quotations from this article is granted subject to appropriate credit given to www.shipsandports.com.ng as the source.