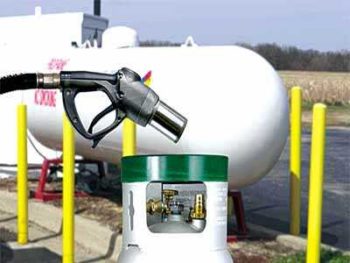 The Managing Director of Nigeria Liquefied Natural Gas (NLNG) Tony Attah, says that the company has not increased the cost of gas.
He identified market dynamics and faulty supply chain as reasons for what he described as inconsistency in the price of cooking gas in the country. Cooking gas is also known as Liquefied Petroleum Gas (LPG).
He spoke with the Minister of Information and Culture, Alhaji Lai Mohammed, on Tuesday evening, who paid a visit to the NLNG plant complex in Bonny, Rivers State.
Attah, who said that the company was contributing 250,000 tonnes of the LPG, about 40 per cent of the total domestic cooking gas needed in the country, stressed that at no time had it increased its price.
Early December 2016 to January this year, the LPG, which hitherto sold for about N3,700 for 12.5 Kg, was increased to about N7,000.
The price of the 12.5 kg of the LPG had come down to about N5000, it was learnt.
Attah insisted that his company had no hand in the sudden increase in the price of the commodity.
He said, "The pricing of the LPG is basically on the market dynamics of the downstream of the NLNG operation. We make the gas available but we are not unaware of some of the vagaries of the LPG market.
"The reality is that there is the need to change the dynamics of the supply chain of the LPG. We produce the LPG in Bonny and ship it to Lagos, which is the only receiving point today. The same gas from Bonny is now put on trucks and brought down to Port Harcourt as well as other parts of the country for the end users.
"Definitely, there is something wrong with the supply chain. The value chain is not efficient and the inconsistent pricing is as a result of some of the vagaries of the market. We did not increase our price; our price remains the same and we will continue to increase volume to bring down the demand pressure."
Attah recalled that in 2007, the country had supply of only 50,000 tonnes of the LPG per year and the NLNG was invited to help.
He said that as of the time, most of the LPG from the plant was for export.
He explained that upon the invitation, the company responded to the chronic supply shortage with about 100,000 tonnes, thus moving the country's supply to about 150,000 tonnes per year.