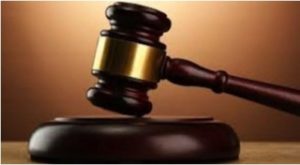 The Apapa Magistrate Court, Lagos on Friday sentenced two tanker drivers, Ifeanyi Okorie and Samuel Eke to one week community service each or an option of fine of N10,000.
The Magistrate, Mrs A.I. Alaka gave the verdict after the prosecutor presented the facts of the case to the court.
Okorie was arraigned on six-count offences of causing obstruction to other road users, careless driving and abandoning vehicle without triangular shaped sign, plate number and driver and conductor badges.
In his own case, Eke was brought before the court on six-count charge bothering on reckless driving, causing obstruction on the highway, inconsiderate driving, abandoning vehicle on the highway, failing to produce driving licence on demand and driving a vehicle without plate number.
The offences contravened sections 40, 30(1), 36(1), 18, 52(1 & 2) and 54(2) of the Road Traffic Law of Lagos State 2003 and sections 29(1 & 2), 40(3), 30(1), 8(1), 36(1) and 17 of the same law.
The prosecutor told the court that the tanker drivers committed the offences at about 8:30am along Navy Junction, Kirikiri with a Mack tanker truck.
They pleaded guilty to all the charges against them.