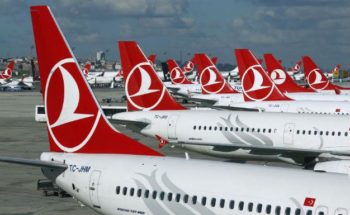 A Federal High Court in Abuja has issued a bench warrant against Turkish Airlines and two of its principal officers for their failure to appear before it in a criminal suit filed against them by the Federal Government on the breach of the Consumer Protection Council Act.
Justice B. O. Quadri of the Federal High Court 10 issued the bench warrant on Tuesday against the airline and two of its principal officers, the Board Chairman, Liker Ayci; and Commercial Manager, Rasak Shobowale, for their failure to appear at the resumed hearing of the case.
The airline and the two accused persons had at the last hearing of the case on February 9, 2017 failed to appear in court for the case, prompting the presiding judge to issue a criminal summons for them to appear on Tuesday.
Justice Quadri ordered that they be brought before his court on April 17, 2017, the next adjourned date for the arraignment of the accused persons, according to a statement by the Head of Media, CPC,  Abiodun Obimuyiwa.
The Federal Government had dragged Turkish Airlines before the court over alleged criminal violation of the enabling law of the CPC and for impunity.
The Attorney General of the Federation and Minister of Justice, Abubakar Malami, filed a three-count charge against the airline and the two principal officers for failing to produce relevant documents to the council as stipulated in Section 18 of the CPC Act, Cap C25, Laws of the Federation.
The prosecution came on the heels of the alleged consistent refusal of Turkish Airlines to respond to lawful requests of the CPC for a full situation report on its alleged shoddy treatment of passengers of its flight 623 from Istanbul to Abuja on December 25 and 31, 2015 and January 9, 2016, which prompted the council to approach the office of the AGF for the prosecution of the airline.
According to the charge list with number FHC/ABJ/CR/147/21, the Federal Government alleged that the three accused persons between December 20, 2015 and March 2016 "without sufficient cause refused to provide the Consumer Protection Council documents on Turkish Airlines' policy on delayed baggage," thereby committing an offence punishable under Section 18 of the CPC Act.