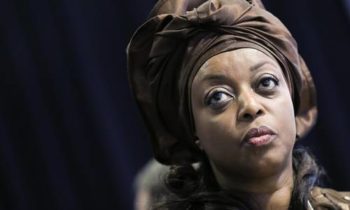 Justice Muslim Hassan of the Lagos Division of the Federal High Court Thursday ordered a "final forfeiture" of $153.3million (about N34 billion) linked to former petroleum minister, Diezani Alison-Madueke.
In a judgment delivered inside his tiny courtroom, Hassan said the prosecution, the Economic and Financial Crimes Commission (EFCC) proved satisfactorily that the funds were proceeds of illegal activity.
"I commend the EFCC for their unrelenting efforts," said Hassan, a former EFCC prosecutor. "It is a very good development for Nigeria."
The anti-graft agency had, on January 6, brought an application seeking an order for the interim forfeiture of the $153.3 million allegedly belonging to Mrs. Alison-Madueke to the Nigerian government.
Out of the funds, N23.4 billion was kept in Sterling Bank Plc, N9.08 billion in First Bank Plc, and $5 million in Access Bank Plc.
In granting the order, the judge had given the banks – and any other interested party – 14 days to appear before him and prove legitimacy of the monies or permanently forfeit them to the Nigerian government.
On January 24, an executive director at First Bank Plc filed an application claiming ownership of the N9.08 billion, forcing the judge to adjourn for judgment.
But on Thursday, his lawyer, Charles Adeogun-Phillips, brought another application seeking abridgment of time and leave to file further affidavits.
He later withdrew the former.
Adeogun-Phillips said his client raised the N9.08 billion in question through "family and friends."
"I am not seeking to move these two motions at this hearing, and I will tell you why," Adeogun-Phillips said. "I come in peace and in that regard, my friends (EFCC) and I are currently exploring reconciliatory thoughts towards seeking an amicable settlement in this matter.
"It is what I will call a commonsense approach in resolving this matter.
"The real value of N9 billion in May last year is not what it is today and will not be the same a year down the line, so that value diminishes.
"For as long as this matter is tied in litigation, that value continues to diminish. That's why I called it a commonsense approach.
"If we don't get an agreement, we'll continue like nothing happened. But I'm hopeful it will be a fruitful exercise."
Rotimi Oyedepo, counsel to the EFCC, said he was not aware of any negotiations with the First Bank chief.
He described Adeogun-Philips' applications as "strange" and an attempt to stop the judge from delivering his judgment.
"It is alien in our legal system for your Lordship to allow his judgment to be arrested in a matter already slated for judgement," said Oyedepo. "He talked about settlement. I'm before your Lordship today, I've not heard of any settlement. My employer has not given me any information about any discussion. I urge my Lord to strike out the application."
After adjourning for three hours, the judge struck out the application and proceeded to read his judgment.
Hassan said nobody showed cause as to why the N23.4 billion and $5 million could not be forfeited to the federal government and gave an order for their "final forfeiture."
He also said the bank executive's claim that the EFCC misled the court to grant the January 6 interim forfeiture did not hold water.
The judge further stated that the respondent could not prove his claim that he was coerced into agreeing to refund N5 billion, and later N80 million within one week.
"The second respondent voluntarily returned N9.08 billion being proceeds of illegal activity without coercion," the judge said. "I hereby order the final forfeiture of N23.4 billion and $5 million being unclaimed properties to the federal government of Nigeria."
Copyright Ships & Ports Ltd. Permission to use quotations from this article is granted subject to appropriate credit given to www.shipsandports.com.ng as the source.