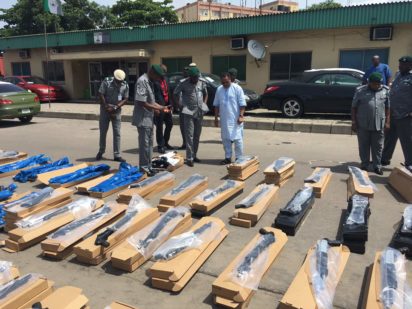 The Nigeria Customs Services (NCS) has arraigned three men and a company before the Federal High Court in Ikoyi, Lagos, for allegedly importing 1,570 pump action rifles into the country illegally.
The defendants, Ifeuwa Moses Christ, Ayogu Great James, Emeka Umeh Festus, who is at large and Great James Oil and Gas Limited, an oil and gas company, were arraigned on Monday at a court presided over by Justice Saliu Saidu.
They were accused of conspiracy, illegal importation of firearms, forgery and altering of Customs' import documents.
The offences, according the prosecutor, Julius Ajakaiye, a Deputy Director in the Federal Ministry of Justice, are contrary to and punishable under Sections 3(6), 1(14)(a), 1(14)(a)(i), 1(2)(c) of the Miscellaneous Offences Act Cap. M17, Laws of the Federation of Nigeria, 2004.
The accused, however, pleaded not guilty to the charges.
The prosecutor said the defendants conspired among themselves between September 6 to 20, 2017, illegally and unlawfully imported a total of 1, 570 pump action rifles into Nigeria, through Apapa Seaport, Lagos.
He also told the court that the accused loaded the said 1,570 pump action rifles in two 1× 20 feet containers marked GESU 2555208 and CMAU 1878178.
Ajakaiye explained to the court that the defendant, in a bid to bring in the weapons unlawfully, altered and forged a bill of lading, issued in July 28, 2017, to read Guandong, China, instead of Istanbul, Turkey, which was written on the conveying container.
He added that they also altered Form M (application for Import) and Pre-Arrival Assessment Report (PAAR), issued in August 28, 2017, with number MF 20170080364 and CN 20170768490/001, respectively, to read Guandong, China instead of Istanbul, Turkey, as country of origin.
The defendants were also alleged to have altered a forged bill of lading numbered ISB0281398, issued in July 28, 2017, to read 230 packages of washing hand basins and W/C, as the content in the container used in shipping the illegal firearms.
Following the arraignment, the prosecutor sought the prayer of the court to commit the defendants to prison. Although the prayer was opposed by the defence counsel, the court ruled in favour of the prosecutor and ordered their remand in prison.
The judge subsequently adjourned till November 20 and 21 for commencement of trial.