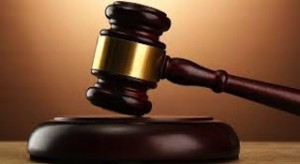 37-year-old Victor Sunday, who stole 10 pieces of anchor hooks valued at N50, 000.00 at ENL Consortium terminal last month, was Tuesday convicted at Apapa Magistrate Court, Lagos on a three-count charge of stealing, falsehood and entering the port with fake Nigerian Ports Authority (NPA) pass. The court sentenced himto serve the community for five hours.
The Magistrate, Mrs Osho Adebiyi instructed him to take a full photograph of himself and sign an undertaking that he will never go near any seaport in Lagos.
She further warned the convict to steer clear of the port or he would face nothing less than two years imprisonment.
The accused pleaded guilty to all the three-count charges against him and asked that the court should temper justice with mercy.
The security officer for ENL Consortium Ltd was in court as a witness to attest that the accused truly stole those items.
The prosecutor, Alexander Esebamen had earlier told the court that the accused committed the offence on October 27, 2016.
He said that the incident occurred at about 0230hrs at ENL Consortium Terminal at the Lagos Port Complex, Apapa where he illegally gained access into the port without an NPA pass and disguised as a dockworker.