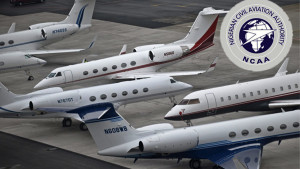 The Consumer Protection Council (CPC), and the Nigeria Civil Aviation Authority (NCAA), have agreed to end the long standing feud between them and work together towards the common goal of protecting consumers in the aviation sector.
This pact was reached in Abuja during a meeting between the two agencies.
The newly appointed Executive Secretary of CPC, Babatunde Irukera, said the most important thing for the two government agencies to do now is to address the prevailing violations of the law by airline operators, as it affects the wellbeing of consumers.
Irukera said consumers should not only get value for their money but they must be treated right, noting that airline operators should be made to understand that treating customers right is a requirement and not a favour done to them.
His words, "Aviation is by far one of the most important sectors in Nigeria, and as a matter of fact, all over the world, it is directly linked to the GDP of countries, and there is a linear connection between commerce and travels especially travelling by air. So, it is a natural course for CPC to want to address consumers' issue in that sector. Treating consumers right is not an icing on the cake, it is a requirement."
He said his agency will improve on its consumer protection agenda by putting in place an expanded interactive complaint portal, which will enable aggrieved customers to seek redress and also get prompt feedbacks.
"Sooner than later, we will also deploy a mobile application that allows you to complain; so essentially, what we would do is to make sure that expressing your grievance is not only at no cost but extremely convenient. Customers can either contact us or the NCAA to lodge a complaint, whichever one is convenient for them. The important thing is that we are working in a mutual understanding, such that consumers do not have to make a dual complaint, we will resolve between ourselves and things will be sorted out."
The Director, Consumer Protection, NCAA, Abdullahi Adamu, affirmed that past disagreements between the two agencies were now behind them, and they will move forward towards the attainment of a common goal of protecting the consumers.
Recall that there had been a lingering battle between the two agencies dating back to 2010, over what CPC described as the NCAA's seemingly lack of concern for the shabby treatment meted on airline customers. There were also allegations of interference in CPC's constitutional right of protecting aviation customers and all other consumers across board.   
Copyright Ships & Ports Ltd. Permission to use quotations from this article is granted subject to appropriate credit given to www.shipsandports.com.ng as the source.