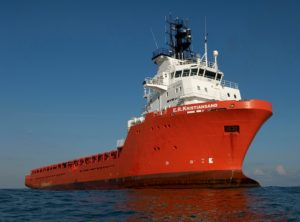 The need for making and enforcing effective policies to drive development of a country's economy cannot be overemphasized. In this report, SAMSON ECHENIM takes a deep critic of some policies in the maritime subsector with a view to making and enforcing new ones where they are needed to drive growth of the industry in the coming year.
There is no gainsaying the fact that lack of tailor-made policies for specific areas of the various arms of the maritime industry has been the bane of the subsector. Where policies and laws exist, such as the Cabotage Act, there is always the lack of political will to enforce them. The Cabotage Act also suffers inadequate technical capacity to enforce it.
As 2016 closes up and the New Year breezing in, the Federal Government and the National Assembly, especially the various House of Representatives and Senate committees on maritime and marine transport must have a clear plan of how they would drive growth of the country's maritime economy.
As is always the case for many nations, creation of suitable laws and policies and implementation of same are always the panacea for solving economic problems. Economic decisions are not made in vacuum.
In the past, in Nigeria's maritime sector, a law was needed to build up the nation's vast potential in the sector. It was clamoured for with nationalistic zeal for over a decade.  In May 2003, it was enacted with enforcement starting in November same year. It was called the Coastal and Inland Shipping (Cabotage) Act N0.5 of 2003, Laws of the Federal Republic of Nigeria. Put simply, the Act was sculptured to stop foreign vessels from lifting crude oil or other cargoes within the Nigeria's territorial waters, while making jobs available for vessels owned and managed by Nigerians and Nigerian indigenous shipping lines.
Thirteen years down the line, it has been all stories and excuses. Stories about how the agencies have tried hard to make it work without success and excuses about why the law cannot work. The Act defines Cabotage in Part 1, (2), as "The carriage of goods by vessel, or any other mode of transport, from one place in Nigeria or above Nigeria waters to any other place in Nigeria or above Nigeria waters, either directly or via a place outside Nigeria and includes the carriage of goods in relation to the exploration, exploitation or transportation of the mineral or non-living natural resources of Nigeria whether in or under Nigerian waters;
"The carriage of passengers by vessel from any place in Nigeria situated on lake of river to the same place, or to any other place in Nigeria, either directly or a place outside Nigeria to the same place without any call at any port outside Nigeria or to any other place in Nigeria, other than as an in -transit or emergency call, either directly or via a place outside Nigeria."
All these activities enumerated in this definition of cabotage by the Act are supposed to be solely undertaken by indigenous shipping lines. Unfortunately, the Act has yet to achieve its purpose, more than a decade after enactment.
What is more? The Cabotage Act also established the Cabotage Vessels Financing Fund (CVFF), which is under the custody of the Nigeria Maritime Administration and Safety Agency (NIMASA). Current situation of the fund, which the former Acting Director-General of NIMASA, Mr Baba HarunaJauro put at N50 billion as at January 2015, suggests it has failed to live to its billing as no indigenous shipping company has yet drawn from it despite the process for disbursement kicking off in February 2012.
Experts including indigenous ship owners and relevant agencies have a common opinion about how Nigeria is losing billions of naira annually for not putting its maritime sector at the reach of her citizens. While different figures are given by the various interests as to what the country loses annually to foreign-flagged vessels, the fact remains that Nigeria's losses to non-implementation of the Cabotage Act in monetary and employment terms are unquantifiable.
Globally, about 80 per cent of the world trade by weight is done by sea. In the case of Nigeria, 90 per cent is done by sea. Despite this huge potential, local capacity in the maritime industry remains low. Nigeria imports over 100 million tonnes of cargo and general goods annually, according to 2010 estimates. In 2009 the country imported 93 million tonnes; 87 million in 2008 and 80 million in 2007.
Nigeria's apex maritime regulator, the Nigeria Maritime Administration and Safety Agency (NIMASA) gave its figures when the agency's former director-general, Mr Patrick Akpobolokemi said it was time to begin the development of the country's shipping and maritime human capacity to bridge and save about $6 billion (N930 billion), which the country was losing to capital flight to foreign seafarers.
In a recent speech delivered at a training programme for maritime journalists at Oron, AkwaIbom State, in 2013, Akpobolokemi said, "Nigeria loses an estimated $3 billion (about N465 billion) annually to foreign seafarers. If you add the remuneration of other foreigners in the shipping and logistics chain, we would probably be talking of losing about double this amount. The implication of retaining about $6 billion in the country annually cannot be underestimated. Besides, a lot of foreign income can also be earned from seafarers working on foreign-flagged vessels."
Making the Cabotage Act work
Perhaps, due to the euphoria surrounding the high expectations from the law, the Cabotage Act may have been built on four false pillars like a pseudopodium. The Act says a vessel to be engaged to do business in the cabotage area must be a Nigerian-flagged vessel, built in Nigeria, owned by a Nigerian and manned by Nigerians.
Chairman of Ports Consultative Council (PCC), OtunbaKunleFolarin said the Cabotage Act was virtually built on almost nothing.
"Coming to the perspective of the Cabotage Act, you will note that the Act is built on four legs—all the vessels that will be engaged in constant trade must be owned, built, manned and registered in Nigeria. One of the practical problems we are having is to meet the requirement of coastal trading which says that all Cabotage vessels must be built in Nigeria. Is Nigeria a ship building nation? No. this means the law need a quick review," he said
However, in the meantime, there is a lot that the regulating agencies can do in the area of cabotage enforcement. According to a Port Harcourt based vessel crewing and manning agent, foreign vessels operating in Nigerian cabotage area are taking advantage of lapses in cabotage trade enforcement of naivety of regulators to manipulate their documents in a way that helps them maintain most of their foreign seafarers while trading in Nigeria's cabotage waters.
The cabotage law requires that vessels operating in the brown waters are largely manned by local seafarers, but the vessels are in the habit of keeping their own foreign seafarers because the regulators are not demanding that engage local seafarers.
"They usually put some job roles that sound quite technical so that when they present it to the regulator, most times the agency will just allow their own officer to stay in the vessel. All this happen because NIMASA has not gone to say, you in this new position, what is your job? What are you specifically doing? Let us have the crew list; let us see the crew and let us see your certificates of competence that you are using to work; let us know if we also have people that have this competence. The agency only relies on the papers they see. Sometimes these papers are doctored and manipulated," Nwokola said.
Hundreds of thousands of Nigerian seafarers continue to remain jobless in a country that has one of the biggest maritime and shipping potential in the world, parading a whopping 870 kilometres of coastal area and importing over 80 per cent of her people's total needs.
Director-General of NIMASA, DrDakukuPeterside in September said the agency's zonal operations would be provided with fast moving platforms to aid enforcement operatives, but one month after, the platforms have yet to be acquired and there have been no indications of the agency's actions in this regard.
Chief Executive of Oarsmann Maritime Services, Nwokolo said foreign vessels manipulation of crewing and vessel manning documents in order to maintain foreign seafarers has been an age-long practice and remained unchecked due to weak enforcement of cabotage trade laws.
He explained, "I have seen this happen a lot of times. On one occasion, the captain confirmed to me that he had just one local seafarer onboard and that was an officer, but others are ratings and other cadres of officers working in engine room and deck and they were all foreigners.
"But if the regulators, especially the Nigerian Maritime Administration and Safety Agency (NIMASA) can go for inspection as a port state inspector, they will comply with our cabotage regulations. The agency is supposed to have inspectors that go to vessels to check what is happening—if the vessels are registered for cabotage business in Nigeria. It is not just enough to stay in the office and approve documents, but rather, they should be able to a step out to say let us see the vessel because some of these ship captains can be funny.
"From what I can see, it is a matter of enforcement. If they see the hammer coming down on them, they will comply. Most of them know and are ready, but they are only waiting to be pushed to comply. For instance, how did I get to know about the example I cited earlier? How I got to know was that as they were coming, the ship captain already contacted us to provide some seafarers. But we will have to first send them the resume of the seafarers and they will approve them to go on board. But when they arrived, they saw that there was nothing on ground to compel to change crew. So they would say why do we need to change? They called us because they had the understanding that when they arrive, there would be cabotage enforcement officers on ground, but when they came, there were none. So, why would they need to begin to observe cabotage regulations when they have no one to bother them or to push them to do so? So, they dropped our seafarers and continued the way they came."
How to make effective policies
"The fact that government revenue is dwindling means that there is much to be done about the economy. This has to go beyond speeches and involved mapped out plan of action, including creation of necessary policies and faithfully implementing them," said Magnus Addico, president of the African Maritime Advisory Centre.
According the veteran maritime and shipping expert, even policies on protection of the ocean remain very important.
"Our governments need to come up with policies on how to protect the ocean itself.  Governments should focus on creating and designing policies in consultation with all stakeholders. Government need not to own shipping lines, but can create enabling environment for the private sector—if a country wants to become a ship building nation, it does not put its money into building ships but create policies that can bring in investors to build ships, while ensuring that the environment favours the business," Addico advises.
In making maritime and shipping policies, sources to draw direction may include the African Maritime Transport Charter, 2010; the Africa's Integrated Maritime Strategy 2050, otherwise known as AIMS 2050; the African Maritime Agenda, 2063 and the Maritime Organisation for the West and Central Africa (MOWCA) Charter. Of course, the content of these continent-wise direction on maritime policy are already in consonance with the requisitions of the International Maritime Organisation (IMO), all aimed at harnessing the full potential of the blue economy
Experts have decried Africa's continuous dwindling share in global trade participation, with just three per cent at the end of 2015. The continent had 2.5 per cent share of world export, according to the Secretary-General, Port Management Association of West and Central Africa (PAWCA), Mr Michael Luguje.
Luguje, in a paper on "Maritime Policy Development and its Impact on Africa's Economy," at a recent maritime event in Ghana said, the continent's intra trade hold remains poor at 12 per cent, while ownership of vessels by African businesses is only a pantry 1.2 per cent of world total.
In making the right policies to drive development in maritime and shipping sector, Lugujeadvisedthat African governments need to focus on specifics and derive policies for each aspect of maritime business. This however would be in addition to first making policies to protect the ocean and its resources.
He said, "Protection of the ocean is very important. Our governments need to come up with policies on how to protect the ocean itself, such as anti-piracy and anti-poaching policies.
"Maritime policies can be broken down in three broad areas and each of this area has various aspects. The broad areas include ocean resources, surface utilisation, that is shipping, and ocean and land interface. Under ocean resources, we have to make specific policies for such economies as offshore crude oil, fish stock and aquaculture, sub-marine cabling and so on.
"Under surface utilisation, such policies as to focus on safety and security of navigation, ship ownership and registry, ship building, labour supply (seafaring), among others and for ocean-land interface, governments would be making policies on ports and terminals, ship yards, offshore platforms, ship agencies businesses and freight forwarding, legal/banking, ship chandelling and haulage, and so on."
For ship registry for instance, Nigeria would need only a policy framework and these don't have to be done by Nigerians alone. The aim is creating an environment that will drive investment- foreign and local. On ship registration, Liberia in January this year announced it has registered 4,000 vessels. This has something to teach Nigeria.
A NIMASA beyond politics and speeches
Of course, the agency of government to drive development of maritime or to lead in this direction remains the NIMASA. This is why experts and stakeholders continue to demand that a technocrat who is vexed in maritime and shipping takes the challenge.
As DrDakukuPeterside deepens his knowledge and hold on the maritime subsector, as the Director-General of NIMASA, there is a need to help redirect the management's focus on the real issues in the country's maritime, especially as another year comes.
The Minister of Transport, RotimiAmaechi has had series of meetings with perceived stakeholders, including the maritime media and has even made attempts to tame the prevailing multiplicity of stakeholders associations.
While his meetings with stakeholders are good steps, they do not in any way usher in a positive turnaround for the maritime subsector.
The minister's high-handed target of N500 billion handed to each of the revenue generating agencies regulating the maritime and shipping industriesdoes not suggest an improvement of gross domestic product from maritime if the targets are met.
No doubt that the maritime sector presents a huge opportunity for the federal government's economic diversification and job creation plans, but the Ministry of Transport through NIMASA will have to take the necessary steps.
The primary action to take in order to harness Nigeria's maritime industry for greater yield will be to develop the country's indigenous shipping industry.
Experts have repeatedly stressed that this is the only way Nigeria can create jobs and activate genuine productivity in the maritime sector.
They have maintained that if developed, with a coastal stretch of over 800km, Nigeria's cabotage trade can absolve five million people rendering services in the country's territorial waters and contributing genuinely to the GDP. Currently, maritime contributes zero to the nation's GDP. This is compared to an annual average of 43 per cent for Philippines and 27 per cent for Singapore, with Nigeria being better positioned to earn from maritime than any of the two countries.
Thankfully, the new DG of NIMASA has come to show some understanding of the issues in the few days of being at the apex maritime regulatory agency.
While speaking on a television programmein July, Peterside identified the Cabotage Act and aligned with its relevance, saying he would bring together the agency's people to implement such laws as the Cabotage Act to drive indigenous participation in maritime.
Peterside was also quoted in a statement by the agency's deputy director, Public Relations, LamiTumaka as saying that the agency would leverage on the provisions of the Coastal and Inland Shipping Act, otherwise known as the Cabotage Act to develop the nation's maritime industry.
This is the first time any DG of NIMASA will be making reference to the Cabotage Act as an effective law to harness the country's maritime resource.
Dakuku who said this while officially taking over from the former acting director-general, Haruna Baba Jauro at the headquarters of the agency in Lagos, reiterated the management's commitment to ensuring that Nigeria becomes the hub of maritime activities in Africa.
"We will harness the vast potentials available in the Agency in order to make Nigeria a maritime hub in the West and Central Africa sub-region by implementing all international laws and conventions, increased enforcement of our mandate and build the necessary capacity for indigenous operators leveraging on the Cabotage Act," he said.
While this may be so, 2017 presents an acid test for Peterside's ability to show a positive direction for the maritime industry.
A frontline investor in Nigeria's maritime and oil and gas sector, Captain Emmanuel Iheanacho, has insisted that "the new DG must also make the cabotage provisions work," as a way of showing dedication to policy directions in harnessing the potential of the country's maritime.
In his welcome statement to the DG of NIMASA, he advised the management of the agency to concentrate its administrative efforts on a genuine attempt to grow indigenous capacity through a judicious use of the Cabotage Vessels Financing Fund (CVFF).
"He would need to properly understand the difference and distinction between the administrative responsibility for the safety of shipping and the security of the maritime environment," said Iheanacho who is Chairman of Integrated Oil and Gas Services Ltd and Genesis Worldwide Shipping.
Government's best option is always to create and implement the needed policies and where there are already existing ones, implement them.
This is where duty particularly calls on Peterside. Stakeholders advised that sincere and faithful implementation of the Coastal and Inland Shipping Act, otherwise known as the Cabotage Act, 2003 remains the way to go. Indeed some aspects of the Act appear out of this world for Nigeria, but the core need and provision of the Act to give preference to indigenous vessels in the cabotage waters must be pursued.
Iheanacho, who is former minister of interior said "Peterside should focus on safety of shipping and its associated costs which is a typical NIMASA function, while the security of the marine environment and its costs is a Nigerian Navy's responsibility. Of course, NIMASA already maintains satellite coverage of the country's maritime domain up to 200 nautical miles. This can aid the agency to detect happenings, including illegal activities the country's maritime domain where the Navy can be called in."
Copyright Ships & Ports Ltd. Permission to use quotations from this article is granted subject to appropriate credit given to www.shipsandports.com.ng as the source.