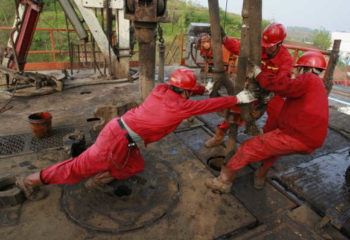 Latest figures from the Nigerian National Petroleum Corporation (NNPC) have revealed that the country's crude oil sales proceeds increased by $74.9m or N22.84bn in November 2016.
This, however, was despite the 8.4 per cent drop in the international market price of Brent crude in the month under review. Nigeria produces and exports Brent crude.
In November 2016, the country earned a total of $96.3m from the sale of crude oil, up from the $21.4m that was made in the preceding month.
An analysis of latest industry data from the NNPC showed that the increase in crude oil earnings came at a time when the Organisation of Petroleum Exporting Countries' referenced basket price shed about $4.65 per barrel to finish at $43.22 per barrel in November.The NNPC further stated that Brent was down by 8.4 per cent to finish at $47.08 per barrel, as it noted that OPEC had agreed to cut output by 1.2 million barrels per day from January 2017, and secured a reduction of 558,000 barrels per day from non-OPEC members.
Although the corporation did not state the total volume of crude oil that was sold in November 2016 and whether this was instrumental to raising the country's earnings, it noted that total crude oil and gas proceeds also moved up in the month.
It said, "Total export proceeds (oil and gas) of $162.4m were recorded in November 2016 as receipt against $97.29m in October 2016. Contribution from crude oil amounted to $96.31m after adjusting for $2.5m lifting deposit utilised earlier."
Copyright Ships & Ports Ltd. Permission to use quotations from this article is granted subject to appropriate credit given to www.shipsandports.com.ng as the source.