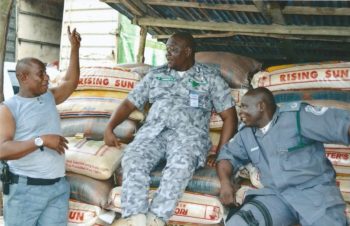 Nigeria Custom Service has made a seizure of 6, 000 frozen poultry product and 1, 069 bags of foreign parboiled rice of 50kg each with Duty Paid Value (DPV) of N135.33m.
The goods which were hidden in four trucks, were intercepted by the Comptroller General of Custom (CGC) compliance team, zone C.
The poultry product which was concealed in a truck with tampolin covering from the top and both sides of the truck, has a DPV of N100.8m.
Similarly, the seized bags of rice concealed with take away disposable parks, were housed in three trucks with a total DPV of N34.5m.
The National Coordinator, CGC Compliance team,  Ahmed Azarena, who described the seizure as mind burgling, said the goods were seized on Sunday along the Benin – Lagos highway.
Azarena who said two persons were arrested in connection with the contraband goods, appealed to perpetrators to look for a legitimate means of livelihood.
While describing those involved in smuggling as "Economy Saboteur" he said these people, while enriching outsiders, end up taking away jobs from their fellow Nigerians.
According to him, "We appeal to them to look for a legitimate means of business and stop destrucing the economy of this country. We are strong people and should be involve in what we save our economy.
"With this activities, what this people does is to take away jobs from our people by making others country rich."
Azarena who is a Comptroller, said the Custom Service has a renewed mandate to stop activities of economy saboteurs.
He said the motivating factor is to save the the country from the activities of these people.