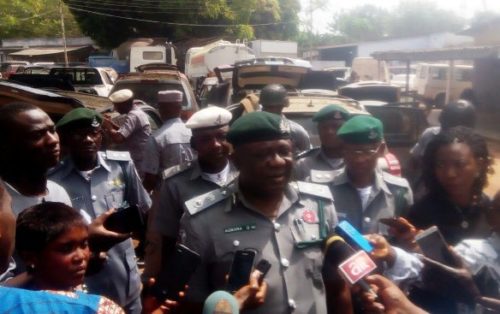 The Ogun Area Command of the Nigeria Customs Service says it has arrested a notorious smuggler, Victor Hassan, popularly known as Victor Owode, who specialise in smuggling rice into the country through the Owode border.
This is even as the Command said it intercepted 7,848 bags of rice and 23 used vehicles, among 102 seizures recorded in the month of July 2019.
Controller of the command, Comptroller Micheal Agbara, who made the disclosure while addressing a press conference at Idiroko on Wednesday, said the seizure of the smuggled rice was the highest monthly seizure so far made in 2019 by the command.
He said, "The seizure of over 7, 848 bags of rice (50kg each) in the month of July, 2019 is indeed a landmark among numerous successes recorded by the Command. This is evidently a patriotic duty by the Service to fully align with one of the cardinal Federal Government policies targeted at boosting agricultural development with a view to attaining national food self-sufficiency."
Agbara said while the suspected rice smuggler has been charged to a court and presently on remand at the Ikoyi prison, the Command is unrelenting in pursuing other cases including the murder of one of its personnel, Customs Assistant 1, Hamisu Sani in January by smugglers, with the major suspect involve in the case now in custody.
On revenue generation, he said the command recorded total revenue of N1.281 billion within the period under review, exceeding its monthly target of N643 million by a difference of N637.5 million.
He added that the collection also indicates an increase of N84.8 million above a total collection of N1.196 billion recorded in the month of June 2019.
Other seizures recorded by the Command include 32 kegs of vegetable oil, 201 pairs of used tyres, 200 kegs of Premium Motor Spirit and 320 bags of sugar with a Duty Paid Value (DPV) of N137.9 million.
Comptroller Agbara informed that following the unbundling and creation of new area commands, two new commands has been created in Ogun State from the hitherto one Command as part of effort to enhance administration and boost revenue generation.
He explained that the approval for the unbundling was granted at the 50th Regular meeting of the NCS Board held on 21st May 2019.
He said, "The two brand new area Commands in Ogun State are Ogun 1 and Ogun 11 area Commands. Ogun 1 will have an area of coverage relating to regulation and enforcement of all import, export and anti-smuggling related activities in Ogun state with Headquarters at Idiroko.
"While Ogun II Area Command will be saddled with the responsibilities of enforcing and regulating all Excise (industries under Excise control), Free Trade Zone and Parcel Post related activities in Ogun state with Headquarters at Abeokuta.
"It is our believe that the new structure of Nigeria Customs Service in Ogun State will indeed be recipe for further cementing the existing relationship towards the overall growth, development and stability of our dear country Nigeria."