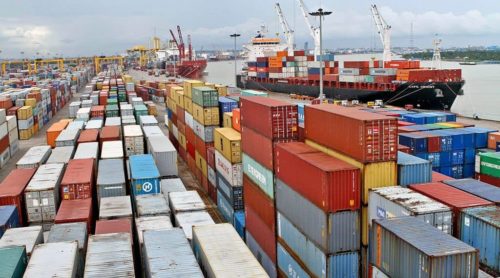 The Nigeria Customs Service (NCS) said it has commenced evacuation of all overtime cargoes currently littering the ports to Ikorodu Lighter Terminal, beginning with PTML terminal at the Tin Can Island Port Complex, Lagos.
Zonal Coordinator in charge of Zone 'A' of the NCS, Assistant Comptroller-General of Customs (ACG) Kaycee Ekekezie, who disclosed this in Lagos last week, said the Service has received the Un-cleared Cargo List (UCL) from PTML and other port terminals in Lagos.
She said, "From Monday all overtime cargoes will be cleared from PTML. They have already submitted their Un-cleared Cargo List (UCL)."
On empty containers littering the ports access roads, the Customs boss blamed shipping companies for failing to retrieve their empty containers.
This, she said, contribute to the gridlock in Apapa and its environs as truck drivers are always in a rush to return empty containers to the port to avoid demurrage charges.
She said Customs is now taking it upon itself to ensure that every ship that calls at Nigerian ports departs with the empty containers.
"We are going to start forcing shipping companies to pay for delay in receiving their empty containers. Some of them deliberately abandon their containers inside the port. Their vessels are supposed to leave the port with the equivalent of containers they brought.
"For example, a shipper will bring in 200 containers and he comes to drop them at a terminal. Instead of carrying the same number of empty containers he would start doing posting. That is why we kept having a build-up of empty containers.
"We have also heard how they (shipping companies) use to keep drivers who want to drop empty containers on the road. They keep them on the road for more than one week and junking their container deposit. But this has to stop. If the shipping companies don't want to carry their empties, we will make them to start paying for them," she said.