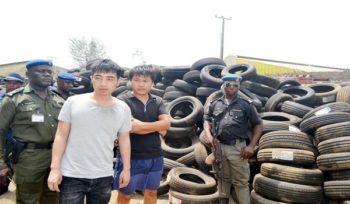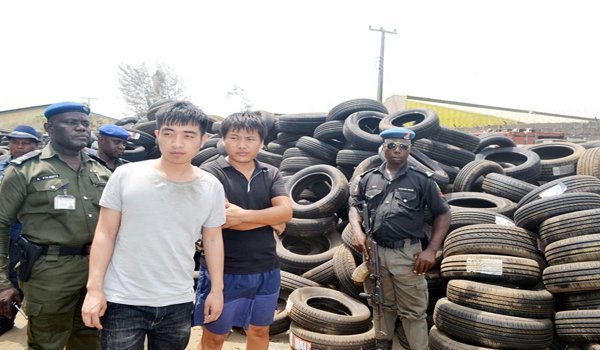 The Nigeria Customs Service (NCS) on Wednesday said products standards control is the responsibility of Standards Organisation of Nigeria, not the NCS. Acting Public Relations Officer of NCS, Joseph Attah, made the clarification while reacting to the recent seizure of fake and substandard tyres by SON in Lagos.
He said that the function of customs was to collect duty and ensure that contraband did not enter the country.
Two Chinese men were caught for allegedly importing the substandard tyres worth over N5bn in Lagos.
He said customs' duty was not to determine quality but only to collect duty.
According to him, once an importer gets a clearance document, certifying an item okay by SON, Customs would only collect duty and release such item.
"People need to know the function of Customs and the function of other regulatory agencies. Before Customs clears an item, a personnel of SON will be present to certify it okay.
"If the personnel out of negligence did not carry out his duty properly and signed that the item is okay and cleared it, customs will collect duty and release such item because of SON clearance document.
"The issue of standard is in the hands of SON, customs only collects duty so far it's not contraband.
"We are not in a position to determine quality, the job of determining quality is in the hand of SON and if it is a food item, the job of determining whether it is fit for human consumption is NAFDAC.
"So in this kind of situation, it is only when you trace the clearing document, you will know whether a personnel of SON is involved or not.
"There is no way customs will release containers of such tyres without a clearance certificate by the SON."
He said that if an importer has gotten a clearance document signed by SON certifying an item okay and attached it to that of customs document such item would be released after duty payment.
SON arrested two Chinese nationals, who were said to have.
Copyright Ships & Ports Ltd. Permission to use quotations from this article is granted subject to appropriate credit given to www.shipsandports.com.ng as the source.