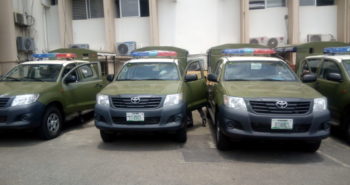 The Nigeria Customs Services (NCS) has taken delivery of 30 additional Toyota Hilux operational vehicles for anti-smuggling patrol bringing the total number of vehicles received to 50.
The NCS had a fortnight ago, received 20 of such vehicles given to it by the Federal Government to intensify anti-smuggling operations.
The Deputy Comptroller-General (DCG), Enforcement, Investigation and Inspection, Aminu Dangaladima, who conducted journalists on an inspection of the vehicles said the patrol vehicles were all equipped with necessary apparatus for patrol duties.
Dangaladima said the donation of the vehicles by the Federal Government was part of the support it has gotten to curtail smuggling of prohibited items, especially rice.
He said: "With this robust support coming from the Federal Government, NCS today is in better position to deal ruthlessly with the enemies of Nigeria's security and economic prosperity.
"With these vehicles, our response time at the scene of any smuggling activity will be swift and decisive."
He stressed that Comptroller-General of Customs (CGC), Col. Hameed Ibrahim Ali (Rtd) had warned that officers and men in possession of the vehicles to use them properly to achieve the desired results.
Dangaladima also appealed to the public especially those dwelling in border communities to support the service by providing useful information on smuggling activities around their communities.
Responding on their capacity to tackle smuggling around coastal areas, he said, "I will say we have more than enough because this war against smuggling is not just by Customs officers alone. We have very good collaboration and synergy with the Nigeria Navy, so we are equipped."