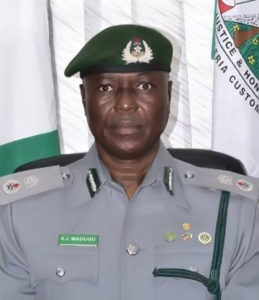 The Controller, Ogun State Command of the Customs Service (NCS) Sani Madugu, narrowly escaped being lynched after an attack on his convoy by suspected smugglers on Wednesday.
Madugu told journalists on Thursday at the Idiroko Customs headquarters, that the attackers took advantage of a traffic jam at Ijako axis of the road to attack his convoy at about 8.00pm on Wednesday night on his way back to Abeokuta.
He said, "We were caught in the web of a traffic jam at Ijako axis of Abeokuta-Ifo road when the hoodlums came and attacked my convoy. They destroyed and vandalised our vehicles." 
The Comptroller, who showed journalists the damaged vehicles, which include a security pilot Toyota Hilux with registration number A 39 CS and his official car, which number plate he said was taken away by the bandits.
Also taken away were the uniform of one of his aides, David Ojo.
"We refused to be provoked. We did not fire gun to avoid calamity, particularly because of innocent motorists and passersby. 
"We had to call for reinforcement before we could leave the scene," he said.
The Controller said the incident will not discourage the Customs command in the state from pursuing smugglers, adding that such attacks show that the agency was working and doing well.
"The attacks would not discourage us. We shall not be intimidated. Attacking us shows that we are working and we are mounting pressure on them. We are always one step ahead of smugglers," he said. 
He said the police has commenced investigation into the attack.