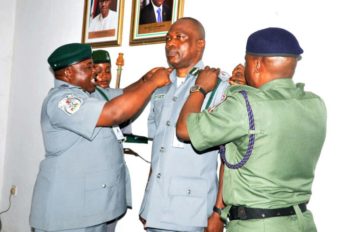 Zonal Coordinator in charge of Zone 'A' of the Nigeria Customs Service, Assistant Comptroller General of Customs (ACG) Monday Abueh has charged newly promoted officers to justify their promotion by re-dedicating themselves to duty and hard work.
Abueh gave the charge recently during the decoration of 24 newly promoted officers in the rank of Comptrollers, Assistant Comptrollers and a Deputy Comptrollers.
The 24 officers are part of the 3,487 officers whose promotion were lastweek approved by the Comptroller General of Customs, Hameed Ali.
Abueh while congratulating the officers said the promotion was in fulfilment of the Comptroller General's promise to reward excellence and promote deserving officers.
He thereby charged the officers to increase their level of hardwork and commitment to the Service to get more promotional benefits.
"The Service has given you this promotion and so you have to give something back to the Service. All we are asking is for you to increase your level of hardwork. Be assured that you will get promoted again if you continue with the hard work," he said.
Responding on behalf of the newly promoted officers, Comptroller Jacob Audu said merit has been restored to the promotional exercise of the Service.
He expressed appreciation to the Customs boss and the management team for rewarding excellence even as he pledged on behalf of others to continue to discharge their duties with total commitment.
Also speaking, Comptroller Wale Adeniyi noted that this is the first time the entire promotional exercise will be driven by merit.
He pledged on behalf of other officers to work hard to justify the confidence repose on them by the Service.
"We have to work hard to show the world that by merit we are actually deserving of this promotion that they have given us. The promotional exercise was rigorous. There were written, oral interview and assessment of performance over a long period of time and if only 16 out of 90 eligible people passed through this, it means there is something the Service has seen bringing together all these elements.
"I can assure you that with this promotion my colleagues and I will put trade facilitation and revenue generation on the front burner," he said.
He also advised those who are not promoted to learn from experience and work hard when the opportunity presents itself.