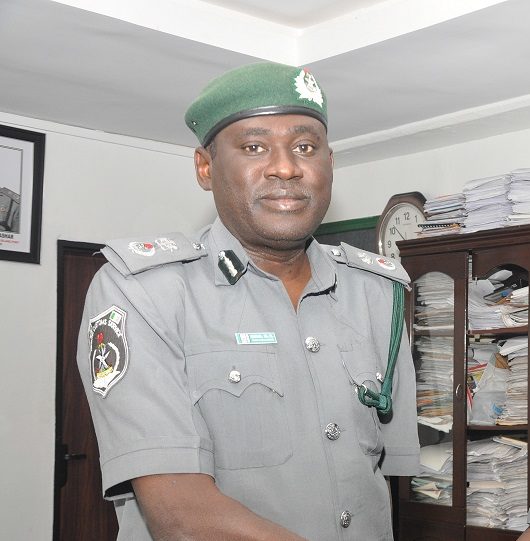 Controller, Tin Can Island Port Area Command of the Nigeria Customs Service (NCS), Comptroller Musa Baba Abdulahi, has attributed the poor implementation of the Federal Government Executive Order on 24-hour operation at the ports in Lagos to dilapidated infrastructure.
Part of the Executive Order, which was released in May last year by the then Acting President, Prof. Yemi Osinbajo, mandated Customs, the Nigerian Ports Authority (NPA), service providers and other government agencies to work 24-hours daily. 
The order was aimed at eliminating the negative impact non-clearance of goods on weekends and public holidays has on the cost of doing business.
Speaking when he received members of the Shipping Correspondent Association of Nigeria (SCAN) who paid him a courtesy visit at the command on Wednesday in Lagos, Abdulahi said while the command had since commenced round- the- clock operation, security around the port environment, bad state of the road and lack of power supply were some of the challenges hindering the full implementation of the order.
He said, "We operate 24 hours. Officers work on Saturday and Sunday but there is the issue of infrastructure too. That is why I emphasized that the whole thing about trade facilitation is not about customs procedure alone. For example, what has Customs got to do with lighting of the port? Do you ask an agent to come to this place in the night and then there is no light?
"So some of these things are beyond Customs but the impression is whatever has to do with the port, it is the Customs. That is why I was emphasizing then that you really need to separate these things. 
"Assuming a vessel arrive our waters, even before arrival, the shipping companies are suppose to send manifest. It is their responsibility not Customs'. So if there is any delay, it is not caused by Customs.
"Once the agent submits his declaration, it assesses automatically and the duty payable is there. The next thing is selectivity either for physical examination or for scanning. If it is for physical examination, it is scheduled for examination, all other agencies are supposed to be part of the examination and as soon as that is done, it is released.
"So a very small portion of the whole activity is what customs does. It is only amplified because we have to account for government revenue and you know people will not want to pay correctly," he said.
Abdulahi said compliance level of agents to imports regulation is still very low at only 30 percent. He solicited support of the media to continue to enlighten the importing public on the need to be compliant to trade rules.
"We have the blue chip companies and the manufacturers generally. But if we are to rate it generally, we can say we have about 30 percent compliance level. So you (media) really need to dwell on educating importers and agents on the advantage of compliance. 
"Part of the reward for compliance is fast track. That you are seen to be compliant, you are granted an opportunity to take your consignment to your premises for physical examination process."