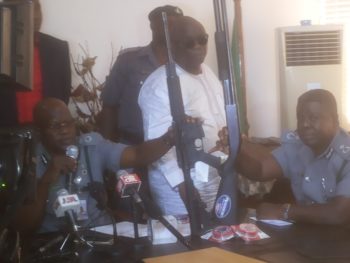 The management of the Nigeria Customs Service (NCS) has again commended the Controller, Tin Can Island Port command, Comptroller Yusuf Bashar for what it termed 'timely use of intelligence'.
Bashar who made this known at a press briefing in Lagos last week where he displayed arms, military kits and already made Nigerian food seized by the command said the commendation followed the recent discovery and interception of a cocaine importation and others recorded by the command.
He said apart from the traditional enforcement operation, the command relies a lot on intelligence, which has aided in the seizure of prohibited items through the Tin Can port.
"Once we get intelligence, we work on it and we sieve it so that we can extract the facts and that has been yielding fruit. We received another commendation from the customs management just last week for timely use of intelligence which led to the seizure of the cocaine import," he said.
He said that the command had handed over seized arms and ammunition and other military accessories to the appropriate government agency for the fourth time in a row since he assumed office at the command.
The customs boss noted that the command believed so much in inter-agency cooperation as the only way the nation could move forward saying that whatever they discover in the cause of discharging their duties, they always look for the appropriate agency be it the Police or the Department of State Security (DSS) and hand over the items to them.
"We have had several seizures in the past. We started with 900 pieces of live ammunitions discovered in a container with one pistol and that we handed over appropriately because we believe in inter agency collaboration. That is the only way the nation can move forward.
"After that, we discovered also 2 other riffles which we as well handed over, we discovered bullets without riffles, all these ones we do hand over, military kits, military uniforms coming illegally, we do hand over, we have had a little over 300 pieces. Since my arrival here, we do a lot of inter-agency relationship, whatever concerns Police, DSS or NDLEA or NAFDAC, we ensure that we hand that over so that they will follow up and do their investigations. Like of recent when we made the cocaine seizure here, we called in NDLEA and handed it over to them. It was later they told us that the cocaine is worth N2 billion on the streets.
"Not quite long too, we handed over the ready to eat jollof rice, beans porridge and similar things to NAFDAC and Standards Organization, we gave them substandard cables that were imported in as if it were Nigerian company so as to deceive Nigerians and you buy it and you get your house burnt. So, whenever we see things, we always hand it over. I think this is the fourth time we are handing over weapons or accessories of weapons like pallets, bullets, pistol, military uniforms, boots", he said.
Copyright Ships & Ports Ltd. Permission to use quotations from this article is granted subject to appropriate credit given to www.shipsandports.com.ng as the source.