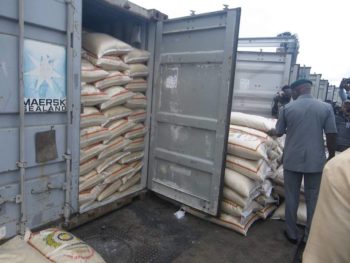 The Oyo/Osun Area Command of the Nigeria Customs Service on Wednesday said that in the past three weeks, its men had seized 1440 bags of smuggled rice, 14 vehicles, clothing and 800 used tyres.
During a press conference at the command's headquarters in Ibadan, the comptroller, Elisha David, said that some of the bags of rice and clothing were concealed in some cars and trucks. He said 100 bags of rice were discovered hidden under sand, cement and gravel in some trucks.
He said, "A Nissan Almera car was impounded with 20 bags of rice while a Mazda car was seized with 50 bags of rice. We also arrested a Volvo Tipper with 100 bags of rice while a Mercedes Benz truck was seized with 200 bags of rice. Eight hundred used tyres were also smuggled into the country in a truck but we were able to seize the vehicle.
"Most of the seizures were effected along the Oyo/Ibadan road while the vehicles that were smuggled into the country were arrested within the Saki border axis, notably at Aleniboro village in Atisbo council area of Oyo State.
"The drivers of the arrested trucks had used the vehicles to convey contrabands while deceiving our men to believe that the trucks were conveying cement, gravel and sands."
While commending the officers and men of the Headquarters Compliance Team, Federal Operations Unit, Zone A and the Customs Intelligence Unit, David said the command would double its effort to ensure that the activities of smugglers were checked in order to protect the economy.