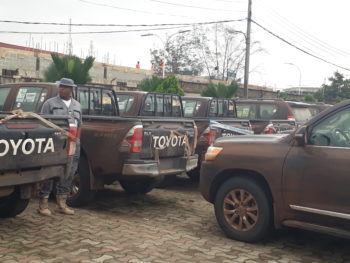 The Nigeria Customs Service (NCS) has seized 37 new exotic vehicles estimated at N1.37 billion after bursting a smuggling ring. The Customs Service also seized Indian hemp and other smuggled products bringing the total value of all the seized items to N1.6 billion.
Addressing reporters at the Customs Training School in Lagos, Tuesday, the Comptroller-General of Customs, Hammed Ali, said the seizures were made by officers and men of the Federal Operation Unit (FOU) Zone A, Ikeja and a compliance team in Lagos.
The vehicles, according to the Ali, include eight Lexus Jeeps (LX570, 2017 model); 12 Land Cruiser Jeep-GXR, 2017 model and 17 Toyota Hilux of 2016, 2013, 2012, 2012, 2011 and 2009 models respectively,
Ali said his men also seized 12,081 bags of smuggled parboiled rice with a Duty Paid Value of over N149 million.
Some of the smugglers reportedly used number plates on some of new vehicles as a decoy to beat Customs' checks, but unknown to them, Customs officials had been monitoring their movement for days before swooping on them.
Sources said when some of the smugglers saw the Customs team along unapproved routes; they abandoned the vehicles and jumped into the bush to evade arrest.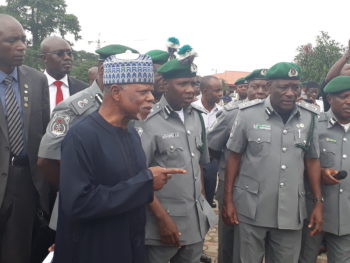 Ali said NCS had not received any order from the Federal Government unbanning the importation of vehicles and rice through the land borders.
He said his officials also seized 130 parcels of 116kg each and 45 sacks of 10kg each of Indian hemp with duty paid value of N12.7million.
Seventeen suspects were arrested in connection with the seizures. 11 of the suspects, it was learnt, have been released on bail, while six are still in detention.
"The 37 vehicles have a duty paid value of N1,374,122,679.00. Similarly, the 12,081 bags of smuggled parboiled rice have a duty paid value of N149, 007,658.
"Apart from the seizure of vehicles and rice, the reinvigorated anti-smuggling operations yielded another 156 assorted seizures including bales of used clothing, Indian hemp and used tyres that are inimical to the health of our people and our country.
"For the avoidance of doubt, the Federal Government policies banning the importation of rice and vehicles through the land borders are still in force. The Nigeria Customs Service remains resolute to work towards crippling smugglers and getting them out of the illegitimate business.
"In the face of security and economic challenges, no responsible government will fold its hand while unpatriotic elements continue to engage in illegal activities that will further compress national economic and security well-being of her people.
"NCS, as one of the enforcement agencies of government, will continue to work towards ensuring compliance with all extant laws governing imports and exports in our country.
"For those who use violence as instrument of intimidation, let it known that going forward, NCS operatives will not hesitate to use appropriate force to deal with any threat that is intended to obstruct performance of our statutory functions," Ali said.
The Customs chief, while commending the Controller of FOU, Zone 'A' and the Comptroller in charge of the compliance team for effective collaboration and coordination of officers to actualize the seizure, urged journalists to always use their medium to inform and educate the public on the adverse effect of smuggling.
Copyright 2017 Ships & Ports Ltd. Permission to use quotations from this article is granted subject to appropriate credit given to www.shipsandports.com.ng as the source.